David Cameron rules out wide-ranging civil service review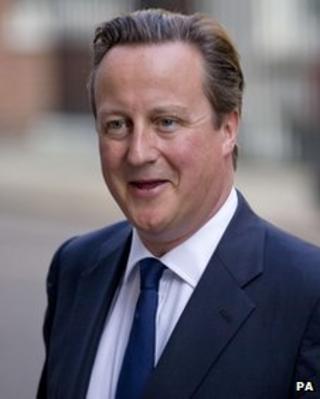 David Cameron has ruled out a root-and-branch review of the civil service, saying it could lead to "inertia" and stop things getting done.
The prime minister told senior MPs that there had been "real improvements in efficiency and competence" and the focus must be on policy delivery.
It comes after a report by a committee of MPs said trust had broken down.
Tory MP Bernard Jenkin said ministers never learned the truth about big projects "until they went pear-shaped".
'Right track'
The government launched a plan last year to make Whitehall less bureaucratic, more focused on implementing policy and able to deliver improved services with scarcer resources.
In a critical report last week, the National Audit Office said the introduction of the government's flagship welfare plan, the Universal Credit, had been hampered by poor leadership, a "good news" culture among civil servants and a lack of project management experience.
In a separate report, MPs warned of a "breakdown in trust" between ministers and civil servants following recriminations about high-profile project failures, such as the botched West Coast mainline franchise process and the much-delayed e-borders immigration system.
During his appearance before the Commons Liaison Committee, Mr Cameron cited the 2012 Olympics and progress on Crossrail as evidence that big projects could be delivered.
While he could not rule out "another IT failure", he said the government was learning from setbacks.
'Bias to inertia'
But Conservative MP Bernard Jenkin, chairman of the public administration committee, said there was a tendency for "one or two civil servants down the food chain" to be blamed for mistakes while "systemic" failures in leadership were ignored.
In testy exchanges with Mr Cameron, he suggested the prime minister had been advised to dismiss his committee's report as "quickly as possible" and this was evidence of a "bias to inertia" at the heart of the Whitehall and government machine.
But Mr Cameron said a review of the kind Mr Jenkin wanted would result in civil servants spending "their entire time" focusing on that "rather than the reforms I want to put in place".
Mr Jenkin insisted that would not happen, as his review would be carried out by an outside body, but Mr Cameron rejected this argument, saying MPs and civil servants liked nothing better than talking about themselves and the machinery of government would grind to a halt.
Civil servants could learn how to operate under Mr Cameron's reforms "on the job," he added.
While there were skills shortages in the civil service, there was a "cultural change" taking place and radical changes that have been introduced in education and other areas showed the system was not "gummed up".
"There are changes we need to make. We are making them. Do we need to go faster? Probably but we are on the right track."
He said the civil service needed to be "leaner, faster, it needs to be better at implementation rather than just policy making, it needs to learn more commercial skills, it needs to get major projects right, it needs to deal with IT in a different way, it needs to engage with small and medium-sized enterprises not just big companies".
He added: "All those changes, I would argue, are taking place."
Asked by Labour MP Margaret Hodge about the future of the head of the Civil Service, Sir Bob Kerslake, Mr Cameron said he was doing a good job and, amid reports that No 10 was dissatisfied, insisted that "you should not always believe what you read in the newspapers".