Venues exploiting lap-dancing loophole, MP says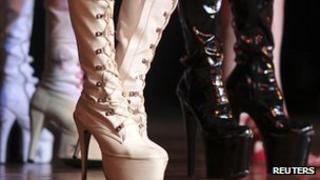 Bars and clubs are exploiting a loophole in lap-dancing regulations and putting performers at risk, an MP says.
Stephen Gilbert said some venues were exploiting an exemption intended to allow them to host, for example, occasional birthday strippergrams.
Performers and customers at such events were not covered by the protections afforded at licensed venues, he said.
The government agreed to meet the Lib Dem MP for St Austell and Newquay to discuss his concerns.
Mr Gilbert told MPs venues were taking advantage of an exemption in the Police and Crime Act 2009 using a "full 24-hour window, once a month, to operate as a full entertainment venue".
The law allows non-licensed venues to hold up to 11, non-consecutive, live sexual entertainment events a year.
They can each be up to 24-hours long.
"This exemption has led, in Newquay, to lap-dancing nights being offered on this so-called occasional basis in direct competition to a licensed venue, but without any of the obligations that the licensed venue needs to meet," he added.
He said the loophole had been designed with the "best of intentions" but that it was open to abuse.
The example he cited in his Newquay constituency involved a venue whose bid for a licence had been rejected.
"This is not the occasional use of a strippergram," he said, adding such a venue provided "none of the protections and safeguards that performers and patrons can rightly expect".
The regulations were introduced in England and Wales to give local councils more control over the number and location of sex clubs.
Rules for licensed venues dictate how many staff must be on duty and how close a customer is allowed to be to a performer.
Applications for a licence can be refused if, for example, the applicant has been convicted of a criminal offence or there are already too many establishments in the area.