Newsnight's Ian Katz apologises to Labour over tweet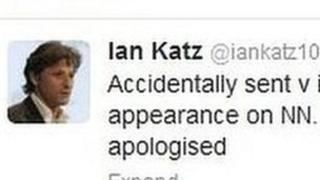 The editor of the BBC's Newsnight programme has been forced to issue a written apology to Labour for calling a shadow minister "boring" on Twitter.
Ian Katz made the remark about Rachel Reeves, a guest on Monday night's show.
The message was meant to be private but was accidentally tweeted by Mr Katz, who has 26,000 Twitter followers.
Labour demanded a written apology from Mr Katz, saying the incident "undermined" confidence in Newsnight's impartiality.
The party said it had accepted Mr Katz's apology.
Mr Katz, former deputy editor of the Guardian newspaper, is in his second week as the editor of the BBC Two news programme.
He made the remark about the shadow chief secretary to the Treasury after she was interviewed by presenter Jeremy Paxman about Labour's economic policy.
'Completely unacceptable'
The message, which was subsequently deleted by Mr Katz, was intended as part of a private conversation about the programme but appeared on his publicly accessible Twitter timeline.
It said: "Tnks ... except for boring snoring rachel reeves ... playout was fun tho, wasn't it? telly MUCH netter than snooooozepapers innit"
The post prompted an apparently sarcastic reply on Twitter from Ms Reeves, who said "thanks...".
Mr Katz subsequently apologised for the "ill-judged" comment, which he said was supposed to have been a direct message (DM) to one individual Twitter user.
He said: "Accidentally sent v ill-judged tweet referring to @RachelReevesMP's appearance on NN. Thought was DM but in any circs wrong. Have apologised."
But Labour sent Mr Katz an email demanding a full public apology for the "completely unacceptable" comment.
The message sent by the party said: "We would like to express our anger and disappointment at your tweet following Newsnight's interview with Rachel Reeves.
"It is completely unacceptable for a senior BBC editor to have expressed this view, whether or not you intended for it to be made public.
"It is vitally important that the Labour Party, our shadow cabinet and Newsnight viewers have confidence in the impartiality and fairness of your programme, and the criteria on which guests and interviews are judged.
"This incident undermines that confidence and it is important that this is redressed. Although a tweet of apology has been made, a full, written public apology should be made by the end of the day."
Labour MPs' anger
In a letter to Labour's director of communications, Bob Roberts, on Tuesday morning, Mr Katz repeated his "unreserved" apology to the shadow minister, adding: "I particularly regret any personal offence or upset I have caused Rachel and hope she will come on Newsnight again soon."
The letter added: "I don't accept your implication that my tweet reflects in any way on the impartiality or fairness of Newsnight, except to the extent that it reflects a determination to make Newsnight as interesting as I can.
"I am acutely aware, however, that we ask quite a lot of guests when we invite them to come into the studio to do late night interviews and my tweet hardly conveyed the appreciations we owe them for making the trip."
Labour accepted the written apology, although some MPs had earlier suggested they would boycott the programme over the incident.
The party's vice-chairman Michael Dugher wrote on Twitter: "Good luck in future to @BBCNewsnight in trying to persuade Labour people to go on their frankly rather boring programme at 11 at night... And whilst I'm at it... I'm not sure a guy who worked for the Guardian (yawn) & now Newsnight (snooze) can lecture people about being boring."
Former Labour cabinet minister John Denham posted: "Ian Katz helped me answer whether I wanted to go from Southampton to Glasgow to appear on Newsnight."
Mr Katz began work at Newsnight earlier this month after replacing Peter Rippon, who left the programme in the wake of the Jimmy Savile crisis.