Syria crisis: Chemical weapons offer must be 'credible'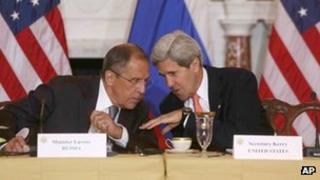 The UK has said it is up to the Russian government and the Syrian authorities to demonstrate their proposal to hand over Syria's chemical weapons for destruction is "credible and genuine".
Under the Russian plan, the stockpiles would be taken under international control before being disposed of.
Both Barack Obama and David Cameron have cautiously welcomed the idea.
France is to table a United Nations resolution urging the international community to bind Syria to the move.
The resolution proposes "extremely serious" consequences if Syria - which is not a signatory to the 1997 Chemical Weapons Convention - were to breach its conditions in future.
The US president has said he would put plans for a military strike on hold if the country agreed to surrender its stockpiles - believed to be stored at up to 40 sites across the country.
President Obama described the idea - in response to the Syrian government's suspected use of chemical weapons on civilians - as a "potential breakthrough", but said he was sceptical it would deliver.
'Step forward'
Mr Cameron has said it would represent a "big step forward" if the plan was serious.
On Monday, US Secretary of State John Kerry suggested the Syrian authorities would need to hand over their weapons within a week to prevent a possible military reprisal although experts have said verifying this by then is unrealistic given the ferocity of fighting in the country.
Asked about how long the Syrian authorities had to prove their intentions, No 10 would not be drawn on any timetable but said a "significant amount of time" had already passed since the attack of 21 August.
The US accuses Damascus of war crimes including the use of chemical weapons, allegations denied by the regime.
The suspected chemical weapons attack in Damascus last month killed more than 1,400, according to US authorities, entrenching divisions among world leaders on how to respond.
President Obama will give a televised address to the nation on Tuesday designed to explain his strategy on Syria.
A test vote in the US Senate on the case for military intervention has been postponed pending the outcome of negotiations over Syria's weapons.
Russia has been highly critical of plans to intervene, arguing there is no proof the Syrian government was behind the attack, and warning of "catastrophic consequences" of military intervention.
The crisis in Syria, which began when anti-government protests were brutally suppressed, has left about 100,000 dead and caused more than two million Syrians to flee the country.