Economic arguments have only just begun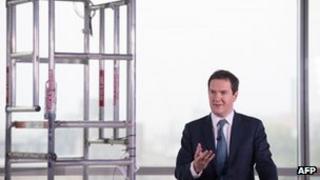 For a long, long time George Osborne used to say he'd be the last to call the recovery. Today he decided he'd waited long enough.
This most political of chancellors also used a speech which was long on economic analysis to make an argument about the past, an argument about the present and an argument about the future too.
He began by saying, in effect: "I told you so" - higher than predicted growth now proved, he claimed, that the cuts did not strangle the recovery as Labour had said they would.
Next he insisted that the recovery was not based on "the wrong sort of growth" - that is, a return to spiralling house prices and consumer debt.
Finally he argued that it was only by sticking to current economic policies that living standards will be raised.
With many families still facing a squeeze in their living standards, Labour argue that talk of recovery rings hollow.
The Conservatives believe they have won the argument about the need for austerity - in the past.
Their fear is that in future voters may not accept that current policies need to be maintained and may, instead, be wooed by opposition promises to curb price rises, spread the introduction of the so-called "living wage" or to outlaw the abuse of zero-hours contracts.
In other words the arrival of a long-awaited recovery means that the political argument about the economy is not over. It has only just begun.