Labour is on your side, Harriet Harman tells unions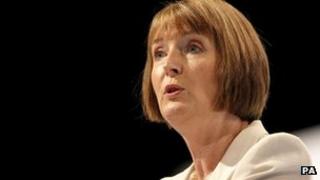 Labour's deputy leader has moved to ease tensions with the unions, urging them not to break their historic links with the party.
Harriet Harman told general secretaries at the TUC conference they are "on the same side" and should fight the Tories together at a "dangerous moment".
Several unions have criticised Ed Miliband's plans to change how they fund Labour.
He has vowed to go ahead with his reforms, despite the potential cost.
Ms Harman was speaking at a dinner at the TUC in Bournemouth, following strong criticism of her leader by several union general secretaries.
Unison's Dave Prentis said Mr Miliband was "living in cloud cuckoo land", while the GMB's Paul Kenny claimed some of his decisions seemed like they had been made up "after a night out".
They were attacking his proposal to end the system of automatically signing up union members to back Labour.
Mr Miliband announced the plan after a row over allegations the Unite union tried to fix a selection vote in Falkirk.
A party probe found no rules had been broken.
'Challenging'
In her speech, Ms Harman sought to calm tensions in the wake of the row.
She said: "It is when things are most difficult and most challenging for people out there, that we - the trade union and Labour movement - must stick together".
Ms Harman said unions and Labour form the "bulwark against reaction and the only hope for progress", adding: "I am proud of the link between the Labour Party and the trade unions. I do not want it weakened. Nor does Ed.
"We want to see it strengthened and deepened. That is what is at the heart of our plans for party reform."
She went on: "I know there are some of you who have concerns about the path we are embarking upon but we need to be clear about why Ed has taken this decision.
"We need to re-evaluate and renew our relationship with members because it is that link which matters so much - especially in these tough economic times."
'Dangerous moment'
The GMB has already announced it is cutting the amount of money it gives Labour via affiliation fees.
"There are difficult decisions that we have to work through ahead of our special conference next March," Ms Harman said.
"We all need to think carefully about who gains from any falling out and any division.
"If we don't have unity, there [are] going to be winners and losers. The winners will be the Tories and the losers will be our constituents and your members. This is a dangerous moment."
Her speech came ahead of Mr Miliband's address to the conference on Tuesday.