TUC delegates: Dear Frances O'Grady...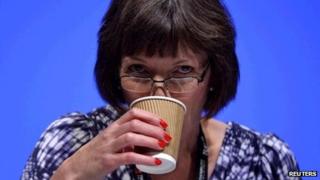 Frances O'Grady has spoken at her first TUC annual conference since becoming general secretary earlier this year. Activists at the event in Bournemouth give her their advice.
Tim Ramsden, NASUWT
First, I would say congratulations on becoming the first woman general secretary of the TUC.
I would like you to work hard for a juster, fairer society, helping the poor and unemployed. The majority of people want more fairness.
It's about unions working on behalf of the people. We would like you to show leadership in doing that.
Teachers, and others, are in a dangerous position and the TUC needs to represent us.
Judith Jackson, General Federation of Trade Unions
I would urge you to be more radical and to give leadership around issues, rather than be seen to be carrying on in the same way as the previous leaders.
It's so progressive to have a woman in the top spot.
Show people that the trade union movement is big movement and that it is angered by the actions of the government.
I think [Ms O'Grady's predecessor] Brendan Barber didn't do enough. You can change that.
Norman Jemison, RMT
I think you are a breath of fresh air. You are already more proactive than Brendan was.
You certainly speak the language that we want to hear about working together, encouraging unions to believe they can do more.
Of course, it's early days, but you have started well and I hope that continues.
Someone has got to speak up for workers in this country.
Ron Douglas, University and College Union
We've had disputes with the government about university funding and tuition fees and over working terms and pensions.
I was a lecturer for 30 years and I loved it. But when people ask me now if they should enter the profession, I say no. That's very sad.
The government has destroyed the industry. Things are worse than they ever were then. There are zero-hours contracts and much worse conditions.
Frances O'Grady, you have got to get that point across.
Chris Ball, General Federation of Trade Unions
My message to Frances O'Grady, as indeed to the government, is to do more for older workers and job seekers.
They are not often discussed in terms of policy at the moment.
Politicians have rightly focused on getting jobs for young people, but there's also an enormous problem regarding older people. This is not being addressed by the government.
I'm very impressed by, you, Frances. You've got all the qualities you need for an excellent leader of the trade union movement. I'm confident you can reach out and create a better image for the movement.