TUC says jobless total could be double official figure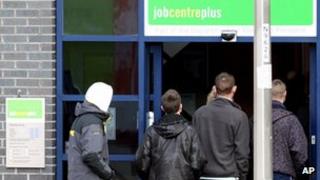 Unemployment could be almost double the official figure of 2.5 million when groups such as the economically inactive are added to the total, union organisation the TUC has said.
The figures are far higher than official data once wider measures of joblessness are included, it said.
The TUC said that on top of the 2.5 million, 2.26 million people wanted a job but were not classified as jobless.
Employment Minister Mark Hoban said it showed the unions were "out of touch".
The number of people out of work fell by 46,000 to 2.56 million in the three months to June, according to the Office for National Statistics.
'Job crisis'
The TUC report was published ahead of the TUC Congress in Bournemouth later.
Its general secretary Frances O'Grady said: "Unemployment may have started to fall in recent months but we are still in the midst of a job crisis.
"The true scale of unemployment is far bigger than official figures suggest, as nearly five million people say they want work today.
"With a further 1.4 million people only able to find part-time work, despite needing a full-time job to get by, it's clear that our labour market remains far from full healthy."
Ms O'Grady said it was important that official unemployment figures better reflected the "true nature" of the jobs market.
"We know that the recent fall in unemployment has been driven by short hours, low pay, temporary contracts, and jobs that offer no guarantee of paid work at all. These types of jobs cannot form the basis for a secure and sustainable economic recovery," she said.
"We also need ministers to face up to people's concerns about under-employment and insecure, low-paid work, which they have so far failed to acknowledge even exist.
"Unless we start getting more high-quality jobs and decent pay rises, this recovery is going to feel pretty joyless to most people."
Employment Minister Mr Hoban said: "Once again the unions are showing just how out of touch they are.
"Rather than welcoming the fact that employment is at a record high and the number of people claiming out of work benefits has fallen, they are determined to talk down both the economy and perhaps worse - the people who have actually worked hard to find themselves a job.
"This is nothing but a cynical ploy from Labour's trade unions. The economy is growing and jobs are being created and they can't bear to welcome that."