Ed Miliband to pursue Labour trade union changes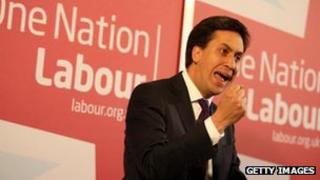 Ed Miliband has insisted he will press ahead with changes to Labour's relationship with the trade unions.
The Labour leader says he wants to "build a party truly rooted in the lives of all working people".
Earlier, his deputy Harriet Harman said Mr Miliband was right not to apologise to the Unite union.
It came after an internal report cleared the union of trying to rig the selection of Karie Murphy as a Labour election candidate in Falkirk.
'Right thing'
Unite had been accused of trying to sign up members without their knowledge to ensure their favoured candidate, Ms Murphy, was chosen.
The allegations prompted Mr Miliband to propose widespread changes to Labour's historic links with the trade union movement.
But Labour later said an internal inquiry found no evidence to suggest that rules were breached after "key evidence" was withdrawn.
In a speech at the TUC conference on Tuesday, Mr Miliband is set to say: "We need to build a party truly rooted in the lives of all the working people of Britain once more.
"That is what my reforms are about. It is the right thing to do. We have to change. And I am absolutely determined to make this change happen."
The report said neither Ms Murphy nor Stevie Deans, a fellow Unite member who was chair of the local Labour Party, had been found guilty of any wrongdoing and they would be reinstated as members.
Nevertheless, Ms Murphy has withdrawn as the prospective general election candidate for the sake of party "reconciliation and unity".
Labour has refused to make the report public.
Ms Harman said the party was right to investigate the claims and review its relationship with the unions.
Conservative Party chairman Grant Shapps called for the report to be made public, and said "pressure from the unions has caused Ed Miliband to buckle".
Labour MP Tom Watson, who stood down from his role as election co-ordinator over the row, said the party should now apologise to Ms Murphy and Mr Deans.
'No apology'
Jim Sheridan, a Labour MP who chairs Unite's parliamentary group, said an attempt to distance the party from the trade unions had backfired.
A senior Labour source said: "There is no prospect of an apology."
Although there is no longer the threat of disciplinary action, the local party in Falkirk remains in "special measures" and Labour intends to put forward a centrally-imposed shortlist of candidates.
Labour started seeking a candidate for the Falkirk seat when MP Eric Joyce announced he would be stepping down at the next general election in 2015 after he was convicted of assault in a Commons bar.
The GMB union has announced it will cut affiliation fees to Labour by about £1m in response to Mr Miliband's reform plans.