Most-wanted cigarette smuggler jailed after 12 years on run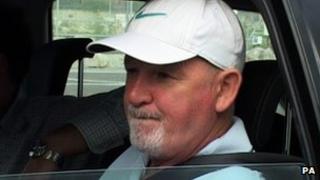 A cigarette smuggler found in Spain after 12 years on the run has been sentenced to four years in jail.
Malcolm McGowan was on the UK's most-wanted list of tax fugitives after he was found guilty in 2001 of smuggling 28 million cigarettes into the country.
Last month, Spanish police arrested the 61-year-old, who previously lived in Nottingham and Edinburgh, at a swimming pool in Valencia.
He appeared earlier at Sheffield Crown Court to finally begin his prison term.
Judge Julian Goose QC said: "You sought to evade justice and have been on the run for 12 years.
"You will now serve the four-year sentence you were given in 2001."
The total haul of cigarettes McGowan smuggled was worth about £16m and cost the UK about £4m in duty, according to Her Majesty's Revenue and Customs (HMRC).
It added that McGowan was part of a wider conspiracy to smuggle about 56 million cigarettes into the UK between November 1999 and March 2000.
Ten others were involved in the plot which cost the UK about £8.2m, HMRC said.
After the sentencing hearing, Adrian Farley, of HMRC, said: "We can now begin to recover the proceeds of his [McGowan's] role in the crime which, with daily interest, currently stands at over £345,000."