Lack of trust damaging accountability in Whitehall, say MPs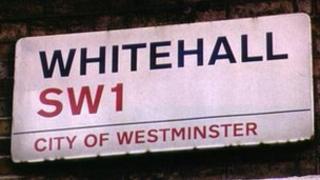 Trust between civil servants and politicians is "breaking down", resulting in a lack of accountability when things go wrong, MPs have said.
The Public Administration Committee found tensions over projects were "all too evident" and called for a root-and-branch review of the civil service.
Its chair Bernard Jenkin said ministers too often had to "micromanage" projects due to a lack of necessary skills.
Unions said changes were needed but warned against a "blame game".
The committee's report comes in the wake of criticism of the handling of the government flagship welfare reform, Universal Credit, and the leadership shown by civil servants.
'Periodic disasters'
The MPs found a "blame culture" had developed in Whitehall over recent years, with ministers and civil servants unwilling to take responsibility for failures, such as the West Coast Mainline franchise debacle or in defence procurement and immigration.
"Failing organisations demonstrate common characteristics, such as a lack of openness and trust, which are very evident in some departments and agencies."
It added: "We remain unconvinced that the government has developed the analysis, policies and leadership to address these problems. We have found that both ministers and senior civil servants are still somewhat in denial about their respective accountabilities.
"There is a failure to learn from mistakes and instead a tendency to look for individuals to blame."
The committee recommended the establishment of a parliamentary commission into the Civil Service - reporting before the 2015 general election - to provide a "comprehensive strategic review" of its "nature, role and purpose".
Mr Jenkin said current and former ministers had been forced to "almost manage project themselves" to keep them on track.
"Just imagine you are an official working in an organisation where the secretary of state is saying one thing and the permanent secretary is saying another. Who do you work for, where do your loyalties lie," he told Radio 4's Today programme.
'Systemic failures'
The decades-old system of ministerial accountability, where officials are accountable to ministers and ministers are, in turn, answerable to Parliament, had "broken down".
"Ministers feel they are being resisted or blocked, officials feel they are being unfairly blamed or scapegoated...An inability to learn from systemic failures is leading to this breakdown of trust between ministers and officials."
Dave Penman, general secretary of the First Division Association, which represents senior civil servants, said it was wrong to suggest the civil service was "failing" ministers but acknowledged members face "very different challenges" than they had done in the past.
"We have called for a broader review of the civil service to ensure what the government and Parliament expects of the civil service is clear and, if possible, a consensus can be built around that vision," he told the BBC
"Some of those tensions are the nature of politics. The blame game, from ministers of all parties, is about the nature of politics."
Peter Riddell, director of the Institute for Government, said the commission would only work "if it concentrates on the longer-term issues of the structure of Whitehall and does not undermine or hold-up current reform efforts".
A Cabinet Office spokeswoman said: "We have the right plan in place and are proud of the steps jointly taken by ministers and civil servants, but we acknowledged in the One Year On report the need to step up the pace in some areas of reform.
"We published the first ever candid report into government's biggest projects, and last year saved the taxpayer £10bn - £600 for every working household."