'Flawed' lobbying bill should be withdrawn, says committee of MPs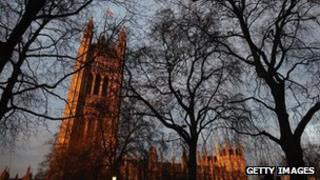 The government's lobbying reforms are "flawed" and should be withdrawn for six months while they are improved, a committee of MPs has concluded.
In a report, the cross-party Political and Constitutional Reform Committee said that the lobbying bill had been "unnecessarily rushed".
The legislation failed to cover much of the lobbying industry, it said.
But a Cabinet Office spokesman said the bill would improve transparency and boost public confidence in politics.
Charities and other organisations have warned that the government's proposals to reform the lobbying industry, which include tighter rules on political spending, could hamper their work.
'Confusion'
The Transparency of Lobbying, non-Party Campaigning, and Trade Union Administration Bill would set a £390,000 cap on the amount any organisation - excluding political parties - could spend across the UK during elections.
But the committee of MPs said: "We do not believe that the government has... provided a satisfactory account of the basis on which the new levels for registration and expenditure by third parties have been set."
Their report added: "The definition of spending 'for electoral purposes' as currently drafted is likely to cause confusion."
The legislation will also create a statutory register of lobbyists, aiming to identify whose interests were being represented by consultant lobbyists and those who were paid to lobby on behalf of a third party.
The committee argued that the register would "exclude in-house lobbyists, which was the government's intention, but as currently drafted it would also exclude the vast majority of third-party lobbyists, and particularly the larger organisations".
Committee chairman and Labour MP Graham Allen said: "This bill is an object lesson in how not to produce legislation.
"There was little or no consultation with those affected. There was no pre-legislative scrutiny. And the bill is now being rushed through the House in a way that indicates a lack of respect for Parliament.
"We can all agree on the need for transparency about lobbying and effective regulation of third-party spending. But this bill contains serious flaws."
'Confidence'
The committee concluded that the "bill must not become law in its present form" and called for the proposals to be withdrawn while a special committee is created to work on improving them.
A Cabinet Office spokesman said: "We welcome the fact that the committee agrees with the need for this legislation and we will of course consider the findings carefully and respond in due course.
"This bill is about creating even greater transparency in the way people and organisations interact with government and politics, to give the public more confidence in the way third parties interact with the political system."
Lobbying organisations "play an important role in the political process, helping to inform policy making and ensuring views are heard by those in government", he continued.
"This bill will ensure that we know who lobbyists lobby for; how much money is spent on third party political campaigning; and make sure trades unions know who their members are.
"We look forward to working with the opposition and others as the bill passes through Parliament to make sure we have a system that works in the long term."
The House of Commons approved the legislation in principle by giving it a second reading on Monday, with 309 votes in favour to 247 against - a reduced government majority.
It will now undergo more detailed scrutiny from MPs.