MP criticised for maternity leave comments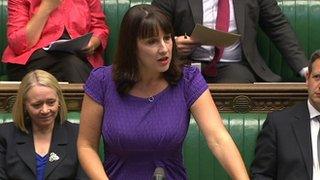 A Tory MP has been criticised for suggesting a Labour counterpart who has returned to the Commons from maternity leave had been on a "long break".
Kwasi Kwarteng made the comments during a debate on living standards in which Rachel Reeves made her first Commons appearance for about six months.
Labour's Fiona O'Donnell said it showed how "out of touch" Mr Kwarteng was.
"To think in any way that being at home with a young child is a break shows a lack of awareness," she said.
Responding to a speech made by Ms Reeves in the Commons debate, the Conservative MP for Spelthorne in Surrey said:
"I am very pleased to see her back after her long break and I wish her all the best but I feel that she didn't do enough I think to observe the courtesies of this House in listening to other points of view."
Speaking later outside the Commons, Mrs O'Donnell said: "It just shows how out of touch he is with what is involved in being a new mother. It's certainly not a 'break'. My own daughter is on maternity leave with her second baby and it is not a break."
On her website, Ms Reeves, MP for Leeds West, confirmed that she had returned to full-time frontline politics on Monday after the birth of her first child.
She said she had "been keeping up to date with all the issues that affect people in Leeds West and resumed surgeries earlier in the summer".
MPs, as self-employed office holders, are not entitled to any specific provision for maternity leave or paternity leave. They can choose how much time to take off and over what period - reflecting their dual roles in Westminster and their constituencies.