Call for parents to get automatic bereavement leave on death of child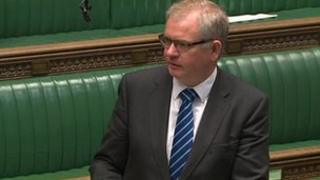 Parents should have the legal right to time off work if one of their children dies, an MP has said.
Labour's Tom Harris wants to change the law to give people statutory bereavement leave when they lose a child, rather than giving employers discretion as is currently the case.
He told MPs there was "nothing more distressing" than the death of a child.
While many firms "acted admirably", others did not, with some people having to take holiday to arrange funerals.
While there is no automatic right to compassionate leave, employees are currently entitled to take time off to deal with an emergency involving a dependent.
There is an expectation that people will be given a "reasonable amount" of time away from work although there is no set period.
In many cases, employees are granted a week or longer of paid leave in case of family bereavement but Mr Harris said there were examples of people being forced to return to work the next day.
'Traumatic'
While he recognised that companies were under financial strain in the current economic conditions, he said he could not understand why parents were allowed statutory maternity and paternity leave at the birth of a child but not in the case of their death.
"Most of us can imagine nothing more distressing than losing a child, yet at this traumatic juncture in a parent's life there is no guarantee of paid statutory leave in the event of a child's death," he said.
"The physical and emotional toll needs such a provision. In the immediate aftermath of a child's passing, bereaved parents must cope not only with their own grief but also that of a family - siblings must be comforted, family and friends informed."
All grieving parents had a right to be treated with dignity and at the moment this was not the case, he suggested.
"Many employers act admirably and offer significant amounts of paid bereavement leave.
"Regrettably, however, some do not. There are a large number of cases where employers have fallen far short of their duties."
Mr Harris' proposed bill, which he introduced in the Commons on Wednesday, would amend the 1996 Employment Act.
While the bill has cross-party support, it is unlikely to make progress without government support.
A spokesman for the Department for Business said the government believed it should be up to employers to agree an appropriate amount of leave with their staff to suit individual circumstances.
"We encourage understanding from any employer in this situation, but there is no set allowance for bereavement leave," she said.
"One reason for not creating a bereavement leave entitlement is that individuals take different periods of time to grieve after the death of a loved one."