G20 - David Cameron on the sidelines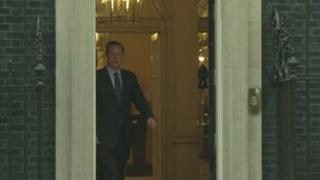 As David Cameron flies to St Petersburg this morning he will be painfully aware that the world will not be waiting to see what he thinks or what he might do next on Syria - the issue which is not on the formal agenda of the G20 but will, of course, dominate the meeting of the leaders of the world's 20 leading economies.
President Obama will have a bi-lateral meeting with the leader of "our oldest ally" - President Hollande of France but he will not find time to meet with the prime minister of the United Kingdom. Some papers call that a "snub". It is not. It is a reflection of a simple truth that Britain's decision to say no to military action means that our leader finds himself relegated to the sidelines.
The prime minister will do his best to flex what he calls Britain's "diplomatic muscle" - calling for other countries to boost humanitarian aid to deal with Syria's refugee crisis (2 million have fled the country, 6 million have been forced to move within it) and to persuade both sides in the civil war to open humanitarian corridors through which aid can be delivered.
The Labour leader Ed Miliband called in the Commons yesterday for a resumption of efforts to get the two sides to talk; for the Geneva 2 talks to resume; for a hand to be extended to Iran to help.
David Cameron's reply was blunt - it is only when President Assad fears that he is threatened that he will contemplate talking to anyone. Behind the scenes in Whitehall they are clear - diplomacy is going nowhere. There will be no attempt to revive it at the G20.
So, Britain will be more a spectator than a player as events unfold in the days to come. This is a result of how Parliament voted. It is a result of how the public thinks. It is not, though, what the prime minister - or the man who wants to replace him - wanted a week ago.
Yesterday in the Commons they tried hard to talk soberly and calmly about Syria but their repressed anxiety and anger was visible.
They reminded me of a couple who'd had a terrible fight in public the night before and had re-appeared chastened. The unspoken thought which hung over them was "what on earth have we done"?