Force claimants to work for benefits, government urged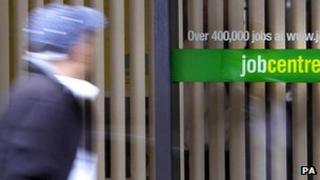 A US-style "work for the dole" scheme could save £3.5bn a year in welfare costs, a campaign group has said.
The Taxpayers' Alliance (TPA) said only the "extreme sanction" of stopping claimants who refused to do 30 hours' activity a week from receiving benefits would force them to find work.
In the absence of such a reform, the government's flagship universal credit would have "limited effect", it added.
But opponents of the idea have labelled it "unrealistic" and "demeaning".
The TPA, which campaigns for lower taxes, said individuals claiming the new universal credit should have their payments automatically suspended if they declined to take part in prescribed activities.
Already a failure
For most claimants, that would mean 30 hours a week of community service, charity work, approved training, work experience or "meaningful" job hunting with officials.
Parents of those under four-year-olds, those caring for someone with a severe disability, and pensioners would be exempt.
Those claiming incapacity benefit or employment support allowance would be expected to take part in "activity that they are physically able to do".
TPA chief executive Matthew Sinclair said: "The government is improving the incentive to work, but they need to go further and remove the option of sitting at home and claiming benefits entirely.
"Taxpayers rightly expect something back for the enormous amount they pay for out-of-work benefits, at the very least a real commitment to find a job as soon as possible."
Former Labour welfare minister Frank Field - who proposed a similar idea in 2009 - urged his party to "seriously look again" at the idea.
"The next Labour government must ensure that claimants are not simply left drawing benefit rather than having an offer of work," he said.
But one group which campaigns against forcing those looking for a job to work for free said the idea had been tried and had not worked.
"These schemes are already in place and that's why we can say they're already a failure," Joanna Long from Boycott Workfare told BBC Radio 5 Live.
"Study after study comes out from the DWP (Department of Work and Pensions) showing that these schemes have zero effect on helping people find work."