BNP's Nick Griffin claims he 'influenced' Syria vote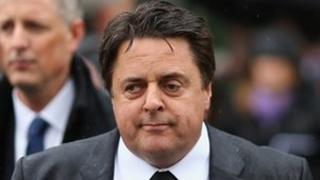 British National Party leader Nick Griffin claims he played a "small part" in ensuring the UK will not be part of US-led military action in Syria.
Mr Griffin said he advised senior Assad regime officials about the best way to appeal to British MPs ahead of a crucial Commons vote.
The speaker of Syria's Parliament wrote an open letter to MPs urging them to "turn Great Britain from the warpath".
The letter invited MPs to Damascus to check UN weapons inspectors' findings.
Mr Griffin said he believed the contents of the letter had been "influenced by my discussions" with Speaker of the Syrian People's Assembly, Mohammad Jihad al-Laham, and other officials.
'Hardest decision'
The MEP, who has just returned from a second "peace mission" to Syria, said he had advised his hosts to be more open with Western politicians and to invite them to "come and see for themselves" and also to react more quickly to demands for access to chemical attack sites.
He said he doubted the British MPs would be "courageous enough" to take up the Syrian offer but he believed the letter may have helped sway some MPs ahead of last Thursday's vote, which saw the government defeated by 13 votes.
It is not clear how much influence, if any, the Syrian letter had on MPs.
One Conservative rebel the BBC spoke to said he had not read the letter or even been aware of its existence. He said voting against military intervention was "the hardest decision I have ever made" and the reason he did it was because he believed "a post-Assad Syria could be just as bloody as a Syria with Assad at the helm".
The BNP, an anti-immigration party on the far right of British politics, shocked the Westminster establishment in 2009 when it got two MEPs elected, but has since seen its electoral performance and profile decline - it got 1.9% of the vote in the 2010 general election.
Mr Griffin first visited Syria in June, as part of a delegation of MEPs, at the official invitation of President Bashar al-Assad and the Arab Socialist Baath Party.
The BNP leader met Syria's minister of information and was taken to the scene of a suicide attack at a police station in which 14 people were killed.
'Propaganda'
He compared Damascus to Belfast during the Troubles and posted a YouTube video claiming life in the Syrian capital was relatively normal, despite the sound of distant explosions.
During his second visit, which he said he paid for "with my own money", he held talks with Mr Jihad al-Laham and Minister for National Reconciliation Ali Haidar.
He said his aim was "try to avoid Britain getting involved in a war that has nothing to do with us".
He claims there is no conclusive evidence the Assad regime was behind poison gas attacks on the suburbs of Damascus on 21 August which left hundreds dead, describing reports that they were as "obvious propaganda nonsense" aimed at drawing the US and UK into the conflict.
According to the BNP leader, the most likely culprits were "non-Syrian fanatics from all over the world" who he says are fighting with rebel forces, but further "detective work" was needed to establish what had happened.
He admitted he had only met members of the Assad regime during his three day visit and had not made any attempt to speak to representatives of the Syrian National Council or other rebel forces because, he said, he did not want to hold face-to-face talks with "jihadists".
He denied being an apologist for the Assad regime, which he described as "probably not the nicest, but at least it is on our side".
He also said he had a lot of sympathy for the thousands of Syrians displaced by the conflict, particularly members of the Christian community, but added: "I still wouldn't want people coming to Britain as refugees."