Michael Gove: Syria vote defeat 'got to me'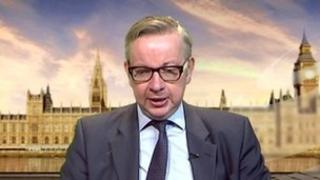 Michael Gove has admitted getting "heated" with Labour MPs after last week's Commons vote on Syria.
The education secretary said the sight of the MPs "celebrating" while children were being killed in Syria by a "ruthless dictator" got to him.
Mr Gove is reported to have had a foul-mouthed row with shadow defence secretary Jim Murphy after the surprise defeat for the government.
Labour said Mr Gove's latest comments were "grossly offensive".
Thursday's government's motion on military action in Syria was defeated by combination of Labour and Tory and Lib Dem backbench rebels.
Prime Minister David Cameron immediately ruled out any military intervention by the UK, saying he would abide by Parliament's decision.
'Disgrace'
But Mr Gove, who had been a strong advocate of joining US-led strikes on the Assad regime in response to chemical attacks, is reported to have lost his cool with Labour MPs who had voted the motion down.
He shouted "disgrace, disgrace" across the Commons chamber and accused Mr Murphy of "appeasing" President Assad, according to MPs who were there at the time.
Labour backbencher Dai Havard also accused Mr Gove of calling him a Nazi, something denied by the minister's aides, who said he had been comparing President Assad to a National Socialist.
Quizzed on the BBC News Channel about his reaction to the vote, Mr Gove said: "I did become heated last week... at the moment that the government lost the vote on the motion there were Labour MPs cheering as though it were a football match and they had just won.
"And, at the same time, on the news, we were hearing about an attack on a school in Syria, and the death toll rising and the incongruity of Labour MPs celebrating as children had been killed by a ruthless dictator, I'm afraid, got to me.
"I did feel incredibly emotional, I do feel incredibly emotional, about this subject."
'Industrial language'
On Sunday, Jim Murphy admitted he had used "industrial language" in his row with Mr Gove.
"Yes, on a Sunday morning, with children watching, you can't repeat what Michael Gove and I said to each other," he told the BBC's Andrew Marr show.
"I used industrial language that my priest would not be proud of."
Dai Havard is reported to have been furious with Mr Gove's alleged Nazi jibe, telling colleagues: "If he does it again, I'll deck him."
Labour Party vice-chairman Michael Dugher criticised Mr Gove's remarks on the behaviour of Labour MPs after Thursday's vote.
"Michael Gove's comments today are puerile, stupid & grossly offensive," the MP wrote on Twitter.
"A desperate, low and partisan attack that demeans his office "
Michael Gove's wife - journalist Sarah Vine - also reacted angrily to the rejection of Mr Cameron's motion by MPs.
In the wake of the vote, she tweeted: "No military action would have come out of it. It was simply about sending a signal. Cowardice."
In a further tweet, she suggested Labour - whose own motion was also defeated - said the opposition "got everything they wanted".
She wrote: "But given the choice of humiliating David Cameron or taking a stand against atrocity, they chose the former. Nice."