Lobbying bill sinister and partisan, says Labour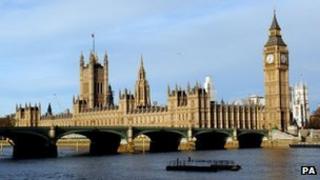 Labour has criticised proposed rules on lobbying, including a limit on the amount of money charities and trades unions can spend on funding election candidates, as "sinister and partisan".
Legislation debated for the first time by MPs on Tuesday would cap such budgets at £390,000.
Labour's Angela Eagle said this was a "sop to the powerful".
But the government insisted reform was needed and that charities' ability to campaign would not be "constrained".
The Transparency of Lobbying, non-Party Campaigning, and Trade Union Administration Bill would set the £390,000 cap on the amount any organisation - excluding political parties - could spend across the UK during elections.
It also aims to alter the legal requirements on unions' to keep their list of members up to date.
The government won a vote on the general principles of the bill at second reading - its first parliamentary hurdle - by 62 votes and the legislation will now proceed to detailed scrutiny by MPs.
However, five Conservatives - Douglas Carswell, Philip Davies, David Davis, Zac Goldsmith and David Nuttall - voted against the bill while others also expressed concerns.
'Should be limits'
The Leader of the House, Andrew Lansley, told MPs there should be limits on the amount charities and other organisations could spend on helping a party or candidate at election time.
He said: "Let me give this assurance - we are very clear that we are in no sense seeking to change the boundary between campaigning on policies and issues which charities do and third parties do to a substantial extent."
He added: "Charities, think-tanks, NGOs (non-governmental organisations) should not be alarmed that this in any sense impacts on their ability to campaign on policy issues."
He said: "Let me be clear, lobbying is a necessary, indeed an inevitable, and very often a welcome part of policy-making and the parliamentary process. We should not seek to prevent lobbying but to make it transparent about who is lobbying whom and for what."
Mr Lansley also said: "The campaigning by third parties at the last election was not in any substantial way undertaken by charities. It was undertaken by other third parties - trade unions, companies, campaign groups, etc etc. So the idea that charities are in any way constrained is completely wrong."
For Labour, shadow Commons leader Angela Eagle called the bill "one of the worst pieces of legislation I've seen any government produce in a very long time".
Referring to Mr Lansley's former role as health secretary, she added: "I think the last bill this bad might even have been the Health and Social Care Act, and your fingerprints were all over that one too."
'Disproportionate'
Ms Eagle also said: "This bill is hurried, badly drafted, an agglomeration of the inadequate and sinister and partisan...
"It's a sop to powerful, vested interests; a sinister gag on democratic debate in the run-up to the general election; a shameful abuse of the legislative process to make cheap, partisan points. This is a very bad bill."
Oxfam, the Royal British Legion, and the Salvation Army are among organisations voicing fears that the government's proposed bill is so complex that it is likely to be "impossible" to follow.
The statutory register would cover only lobbyists working as consultants for companies or organisations, rather than their in-house staff, with ministers saying this mirrors the voluntary code already in place across the profession.
However, the campaign group Unlock Democracy says this would exclude 80% of lobbyists from the list.
In the Commons, Conservative MP Zac Goldsmith argued that large businesses, employing their own lobbyists, would have a "disproportionate relationship" with ministers and officials, with smaller concerns losing out.
The prime minister's official spokesman said the government would "always listen to concerns that are raised" but the bill contained "the right proposals".
The majority of the bill would apply to the whole of the UK, although the provisions on trade unions' membership lists would not affect Northern Ireland.