Portas: I have 'taken a battering' for trying to help High Streets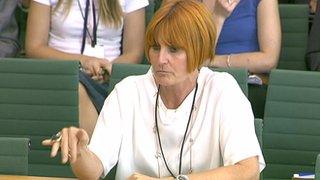 Retail guru Mary Portas says she has "taken a battering" from critics for attempts to revive High Street shops.
She told MPs a review she was asked to do by ministers should have carried a "health warning" and "sometimes she wished she had not put her name to it".
But the businesswoman said it had put the issue on the public agenda and helped "create a sense of civic pride".
Twenty-seven towns and areas have been given funding to build a more diverse and sustainable shopping experience.
Critics of the review - which focused on encouraging independent start-ups and community-oriented businesses to replace chain stores that had moved to out-of-town locations - said it was too "nostalgic".
'Catalyst for change'
Appearing before the Communities and Local Government Committee, Ms Portas said traditional High Streets had been "in decline" for 20 years and trying to reverse this would take a long time.
But she said her report had been a "catalyst for change" and kick-started some "incredible work", with half of the government's initiatives for regenerating High Streets based on her recommendations.
She said she was committed to the future of High Streets and denied she had agreed to do the report - for which she was not paid - principally to boost her own television profile.
"Most people do a report and walk away," she said. "Two years down the line I am still fighting for it."
But she insisted she was not responsible for the implementation of the report's recommendations and had no involvement in the selection of the towns in England - dubbed "Portas pilots" - which had received funding or the criteria for selection.
'Very naive'
She said the criticism she had received over the success of the pilots was "unfair" as the way the report was taken forward was the government's responsibility, not hers.
"I have taken a huge battering for work I have done for nothing," she said. "I am not the saviour of the High Street. I cannot do this on my own. I am a champion of it"
While acknowledging she was "very naive" when it came to politics, she insisted she had not official role and she was a "apolitical" campaigner.
"I actually went out and just did something which I thought was important for my country. I wish someone had held my hand on navigating politics because it has been a bit tough.
"It is tough when you see your name above the titles of the towns or someone bashing it - it is difficult to take."
Ms Portas said the government had been slow to respond to her report and could be doing more but she had been assured by the prime minister that he was still supportive of her ideas.
But Labour's Simon Danczuk said the situation had "got worse" since the review, with the number of empty shops increasing while his colleague Clive Betts suggested ministers may have been "a bit free" with the use of her name to endorse their policies.