Syria vote: What does it mean for Britain's status?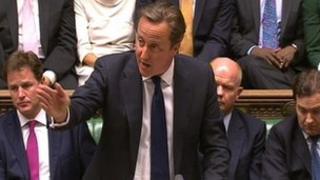 Ministers might have expected to spend today consulting maps of Syria and pondering military targets.
Instead, they are left musing on Britain's place in the world.
Chancellor George Osborne says he expects some "national soul searching".
Those who argue a fundamental change has taken place put it like this: when Parliament stops the prime minister taking action, and risks straining relations with the US, how can the UK conduct an outward-looking foreign policy with any confidence?
Cabinet ministers, like Mr Osborne and defence secretary Philip Hammond are left hoping Britain does not - to use the Chancellor's terms - turn its back on the world.
The experience of Iraq made the arguments for action toxic, they argue, and 10 years later we live with the consequences.
Risk
MPs who voted against action are unapologetic and say they - and not ministers - are in tune with public feeling.
Former Liberal Democrat leader Lord Ashdown argues that simply means voters need persuading.
He told the BBC: "I recognise that the public is wholly against this. That is why they need political leadership."
There is - as ever - a risk of over-analysing events.
Foreign policy is not only dictated by where bombs do, and do not, fall. Control over its execution has not been passed wholesale to backbench MPs.
No one doubts Germany's place at the top table, it sent troops to Afghanistan - its first deployment abroad since World War II - but it has ruled out participation in a military strike against Syria.
And these questions are not new.
Britain has long pondered its place in the world.
Some of the questions posed by the Suez Crisis of 1956, which led to the resignation of Conservative Prime Minister Anthony Eden, were considered in some depth by his successor Harold Macmillan.
Moral case
A report written for Mr Macmillan in 1960 said Britain's "relative power in the world will certainly decline, though it does not follow that our status need necessarily do the same".
More than 50 years later, the question of how much money and political capital should be invested in supporting that status remains.
Ministers, though defeated on the question of a Syrian strike, will continue to argue it is in Britain's interest to uphold international standards.
They put an economic as well as a moral case, and such arguments are not confined to the government benches.
It is worth remembering both David Cameron and Ed Miliband argued military action without a UN Security Council resolution was possible.
Some of their backbenchers will say Britain's welfare is better served by keeping well away from military interventions.
All sides will keep an eye on wider opinion.
The spectacle of MPs searching their souls may not fascinate voters, but the political strategists will want to know what conclusions they reach after the Commons vote.
And no one can know what impact more stories of horrific attacks in Syria will have on the mood at Westminster, and the country at large.