Syria crisis: Miliband says decision was 'right for Britain'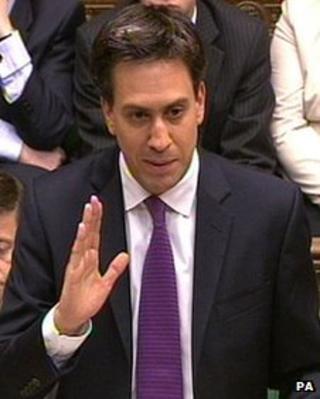 Ed Miliband has insisted he did the "right thing by the British people" by helping to block UK involvement in any military action in Syria.
The Labour leader said an "ill-thought out" intervention would make things worse for the Syrian people in the wake of last week's chemical weapons attack.
Senior Conservatives have criticised Labour's actions in the run-up to Thursday's critical vote in Parliament.
Lord Howard accused Labour of "changing its position" several times.
MPs rejected the principle of UK military action against Syrian President Bashar al-Assad's government to deter the use of chemical weapons by 285 votes to 272, ruling out the possibility of Britain joining US-led strikes.
The result of Thursday's vote has raised questions about Prime Minister David Cameron's authority, the direction of British foreign policy and the UK's relationship with the US, historically its closest ally.
'Learning lessons'
Mr Cameron has said he will continue to argue for a "robust response" to the use of chemical weapons, including pressing for action at the United Nations and putting the "maximum pressure" on the Syrian government.
He defended his handling of the issue, saying he had sought to "act differently" from previous leaders by properly consulting Parliament but he recognised that MPs had spoken "very, very clearly".
He said he regretted not being able to secure a consensus across the House of Commons and said it was up to Mr Miliband to "defend the way he behaved" amid claims the opposition leader had reneged on a deal with the prime minister.
Mr Miliband sparked anger in Downing Street before the vote with his decision to order his MPs to vote against the government.
The prime minister had watered down the government's original motion, which would have authorised military strikes, after discussions with Mr Miliband over the involvement of the UN and the requirement for a further Commons vote.
Labour denied No 10's claims it had changed its position to score political points and accused the prime minister of "cavalier and reckless leadership" and failing to learn the lessons of the 2003 Iraq War.
"We have sent a message that Britain is not going to engage in ill thought through military action without going through the United Nations and without ensuring we have regard to the consequences in the region," Mr Miliband said in an interview with BBC News.
"I think ill thought through military action would have made life worse not better for the Syrian people," he said. "Never mind what the British people would have thought of it."
'Critical friend'
Senior ministers, including defence secretary Philip Hammond, have suggested the UK's refusal to take part in any action in response to the attack would inevitably put a strain on its relations with Washington.
But Mr Miliband said the UK should be able to take a different view from the US on issues.
"The United States is our friend, we do have a special relationship with it, but I don't think the conduct of British foreign policy is about saying we always do what the United States thinks we should do."
With military force now ruled out, Mr Miliband said the UK should now be stepping up its humanitarian and diplomatic efforts, focused on the G20 summit in Russia next month.
The prime minister's call for a military response in Syria followed a suspected chemical weapons attack on the outskirts of the capital Damascus on 21 August, in which hundreds of people are reported to have died.
The US and UK say the Assad government was behind the attack - a claim denied by Damascus, which blames the rebels.
After the Commons defeat, Mr Cameron said it was clear Parliament did not want action and "the government will act accordingly" although some ministers, including education secretary Michael Gove, were said to be furious with Tory rebels.
'Edge of isolation'
Lord Ashdown turned his fire on Labour, Conservative and Lib Dem MPs who refused to back the government, writing on Twitter that he felt "depressed and ashamed" that people felt the atrocities in Syria were "none of our business".
"I think it diminishes our country hugely," he told the BBC News Channel.
"We should all understand who is cheering this morning. President Assad is cheering. President Putin is cheering. I suspect Nigel Farage (UKIP leader) is cheering as he sees this country teetering on the edge of isolationism.
He added: "To see my country draw back from a coalition in favour of international law and decide the answer is to stand aside does not fill me with great joy."
Thirty Conservative and nine Liberal Democrat MPs voted against voted against the government motion.
One of those, former minister Crispin Blunt, told BBC Radio 4's Today that the outcome was a "temporary blip" for the prime minister's authority but said it was to his "eternal credit" that he had been prepared to bring the matter so swiftly before Parliament.
Other rebels rejected suggestions their actions had undermined Mr Cameron's leadership.
"I don't think that's humiliation - that's democracy," Richard Bacon said. "I respect very much the way he's (David Cameron) handled himself and I think he handled himself with great dignity after the vote as well."
Amid suggestions that he totally misjudged the mood of his party in forcing a vote on an issue where his MPs had such reservations, Mr Cameron is set to hold a barbecue at Chequers later on Friday to try and build bridges with backbench MPs.
UKIP's Mr Farage said the PM's authority was at "an all time low" and suggested foreign secretary William Hague should resign.