Syria: Are UK anti-war protests gaining momentum?
By Gerry Holt & Justin Parkinson
BBC News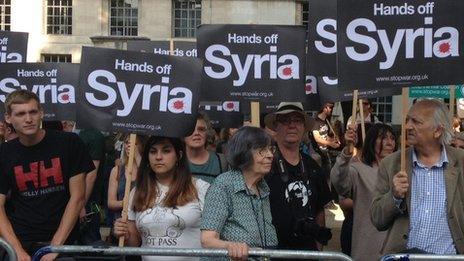 It is more than 10 years since the invasion of Iraq began.
During the long build-up to the conflict, amid debates over weapons of mass destruction and government intelligence, public opinion was divided.
Those against war made their feelings known.
A mass demonstration took place in London in February 2003. Two million people marched through the streets, according to organisers.
But, with the indicators growing stronger that some sort of military action is likely in Syria in the next few days, how loud is anti-war sentiment this time round?
With less than a day to go before MPs and peers were due to debate the government's proposals, a demonstration took place opposite the entrance to Downing Street.
Several hundred people, ranging from teenagers to the elderly, held placards bearing slogans such as "Hands off Syria" and "Cut war, not welfare".
Ann-Kristine Westwood, a grandmother from Nuneaton, Warwickshire, told the BBC: "I can't see what we've achieved in 10 years in Iraq or Afghanistan. And I'm convinced we are being sold another pup.
"We can't afford schools, houses, teachers, nurses, but we buy as many bombs as we want. The people in this country can't afford another war."
She added: "The mothers in Syria are going to be terrified. We are now the terrorists."
As a man with a loudspeaker denounced the government, another man, in his late 20s, who declined to reveal his name, said: "We want to bring home to the politicians the fact that the vast majority of people in this country are against war.
"I think this may be a way to change some politicians' minds before the vote."
He added: "I've been interested in the Iraq war and the military intervention in Libya for a long time, but it's only now that it's reached this height of ridiculousness. This is the first time I've really felt compelled to come out and protest.
"I'm absolutely astonished how quickly this has happened and how much the government has rushed into this."
But most of the protesters were what might be called "veterans", those old enough to have been involved in the Iraq march.
What of the less committed?
Ian Chamberlain, a spokesman for the Stop the War Coalition (SWC), said anti-war sentiment was building.
Some 5,000 people were expected to march from Embankment to Trafalgar Square via Downing Street once more this Saturday, he said.
"I think we speak on behalf of a lot of people at the moment, as we did in 2003 and on Iraq, when two million went out on to the streets of London [to march] against intervention there," Mr Chamberlain said.
"We've seen in Afghanistan, Iraq and Libya how intervention by the West has not been humanitarian."
But how many people does SWC speak "on behalf of"?
The Sun newspaper commissioned a YouGov poll of almost 2,000 adults and found that they were opposed to the use of British missiles against military sites in Syria by two to one.
YouGov's president Peter Kellner, said: "The public are very wary of any form of military engagement. They certainly don't want any British arms to go into Syria - even lightly defensive arms, let alone tanks and artillery.
"But we asked specifically about this idea of missile attacks on military targets in response to chemical warfare and by two to one the poll found people don't want that."
Mr Kellner added: "If one goes back 10 years ago to a similar situation to what we have now - the build-up to a special debate in Parliament about Britain going to war in Iraq - the week before the parliamentary vote only one third of the public wanted Britain to go to war without specific authorisation from the United Nations.
"But on the day of the parliamentary votes, when there hadn't been authorisation, it went from 33% to 50% and three weeks later, when Baghdad fell, it was 66% support.
"So public opinion is currently against British military involvement but I'm not certain it will stay against. It will depend on what happens in the next 24, 48, 72 hours."
People do not know what will happen. A "boots-on-the-ground" intervention in Syria is deemed unlikely, but perhaps targeted missile strikes could take place.
Some think this will be enough to deter President Assad's government from using chemical weapons in future.
Others fear the reaction could lead to a wider, ongoing, bloody conflict.
The disagreements transcend political party lines.
But will it be like 2003 again? Will thousands of children skip school once more in co-ordinated protests? Will the centres of cities come to a halt?
After Iraq and Afghanistan, UK Independence leader Nigel Farage, has said the "great British public are tired of being at war".
Can tiredness be turned into passion?
Mr Chamberlain said: "By mobilising people on the streets we're going to make it very clear what public opinion is [on Syria] and put our MPs under pressure to make the right decisions."
One of the protesters, Frank Friedmann, spoke of widespread anger, but added that, in the face of the government's decision, there was a "feeling of futility" about protest.
He added: "But I've come down here from Leicester to play my part."
The next few days will show how many people feel compelled to join him.