Lobbying bill is a step backwards, says Labour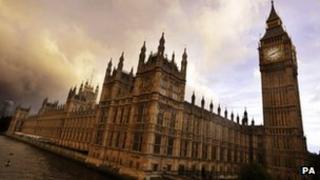 Labour is urging the government to rethink its plan for a statutory register of lobbyists, saying its proposals are a "step backwards".
Legislation was published in July following allegations about the links between lobbying firms, MPs and peers.
But the opposition says the bill's scope is too narrow and only 1% of lobbyists will be required to register.
It will propose a series of amendments, including a code of conduct, when it is debated for the first time next week.
The bill will require anyone paid to lobby ministers and senior civil servants over legislation, policy or government contracts by third parties to disclose who they are working on behalf of and update client information on a quarterly basis.
'Tiny minority'
Those failing to reveal who they are representing could face prosecution or significant fines.
But Labour says many lobbyists exerting influence over government will not be covered by the provisions of the bill - as those meeting MPs, junior civil servants and government advisers will not be recorded.
In a speech in London, shadow Commons leader Angela Eagle said the register, which will not apply to the devolved administrations, was worse than the current practice where ministers and permanent departmental secretaries voluntarily disclose information about who they meet every quarter, including lobbyists working directly for companies and other organisations.
"The bill's definition of so-called third party lobbyists is so narrow that it captures only a tiny minority of the industry," she said.
"It wouldn't even cover a lobbyist lobbying an MP about the lobbying bill."
She added: "This bill is so bad that it has achieved the unique feat of uniting transparency campaigners and the lobbying industry against it...With no code of conduct or sanctions for bad behaviour, the bill is a step backwards."
A truly "universal" register should cover all lobbyists, she added, including anyone working in a "senior job" for the government who had access to ministers and top mandarins.
Labour claim Lynton Crosby, the Conservatives' election strategist, has influenced government decisions on plain cigarette packaging and minimum alcohol pricing but would "escape" having to register his commercial interests under the plan.
Mr Crosby, whose London-based PR firm numbers tobacco giant Philip Morris among its clients, has insisted he has never had a conversation with any minister about cigarette packaging and David Cameron has said he has not been lobbied by him about it.
'Good lobbyists'
When he was opposition leader, Mr Cameron described lobbying as the "next big scandal" to hit politics but the government waited three years after taking power before bringing forward proposals.
Conservative MPs have also raised concerns, senior backbencher John Redwood suggesting that "good lobbyists" are vital to democratic debate and representing his constituents properly requires him to be their "chief lobbyist".
"As with all walks of life, there will be on occasions bad lobbyists who break existing conventions and laws, and who doubtless will break any new law as well if they think they can get away with it to advantage," he wrote on his blog.
"Democratic politics cannot survive without lots of good and well informed lobbying."
Labour has also criticised other measures in the bill to end self-certification of trade union membership and reform third-party funding of election campaigns, which it has suggested could "gag" campaigners and charities.