Syria crisis: Cameron and Obama discuss military action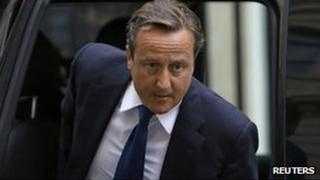 David Cameron has discussed Syria with Barack Obama as Britain and the US consider intervention.
No 10 said the UK PM heard the "latest on US thinking" on the issue, ahead of a National Security Council meeting at midday and a Commons vote on Thursday.
Mr Cameron has yet to decide the nature of the UK's response, the No 10 spokesman said, but it would be "legal and specific" to the chemical attack.
The Archbishop of Canterbury has warned MPs not to rush any decision.
The Most Reverend Justin Welby said the consequences of military action across the Muslim world were unpredictable with the impact on those not directly involved in fighting "beyond description and horrible".
The Syrian government has blamed opposition fighters for the alleged chemical attack near Damascus on 21 August, in which hundreds of people are reported to have died.
In the latest developments:
In analysis:
'Assad responsible'
The phone call between Mr Obama and Mr Cameron was the second since the alleged chemical attack.
A Downing Street spokesman said the leaders agreed they were "in no doubt that the Assad regime was responsible" for the chemical attack.
"Regime forces were carrying out a military operation to regain that area from the opposition at the time; and there is no evidence that the opposition has the capability to deliver such a chemical weapons attack," he said.
The National Security Council includes Defence Secretary Philip Hammond, Home Secretary Theresa May and Deputy Prime Minister Nick Clegg among its members, along with military and intelligence chiefs.
Meanwhile, the government is expected to publish the Commons motion for debate later, along with details of intelligence linking the Syrian government to the attack.
The motion is expected to stress the need for "appropriate measures" in response to the use of chemical weapons by any country.
Sources said it would not contain "a timetable for action" or specific military options.
A number of Conservative backbenchers have raised concerns about military intervention in Syria - but it is understood Tory MPs will be told to support the measures.
The US has said its forces are "ready to go" but former UK military chiefs warned a one-off missile strike could see the UK dragged into deeper action.
Admiral Lord West, a former first sea lord, said he was "extremely nervous" about any potential military intervention.
The Labour peer said the UK and US should show any evidence of a chemical attack to Russia and China, who have warned against intervention, to back up their case.
"Then we need to try and get a security council resolution. If the Russians and Chinese say 'Yes, it is clear it was done by them [the Syrian government]', then they would be in a very difficult position to vote against such a resolution. The most they could do is abstain," he told BBC Radio 4's Today Programme.
'Surgical strike'
He said an attack would be "extremely dangerous" as it was hard to predict how the regime might respond.
"You can do a surgical strike but you need to be clear what is your whole campaign plan, where do you go from there?" he said.
BBC defence correspondent Caroline Wyatt said it was understood military targets had already been chosen and they would probably focus on command centres believed to be involved in the use of chemical weapons.
She said cruise missiles could be launched from US ships in the Gulf or the Mediterranean, or Royal Navy vessels including submarine HMS Tireless.
Labour leader Ed Miliband said his party would "consider supporting international action", but only if it was legal and "specifically limited to deterring the future use of chemical weapons".
Opposition frontbencher Diane Abbott said she may resign as shadow health minister if Mr Miliband supported intervention.
"It's not clear that any such bombing would be legal. It's not at all clear that it would change Assad's evident determination to fight to the last Syrian. And the danger is that we get dragged into a civil war in the Middle East," she said.
The Stop the War Coalition called on the British public to oppose what it called "another disastrous military intervention". It is planning to hold a protest at Downing Street later.