Ditch 'anti-car dogma' and boost parking, councils told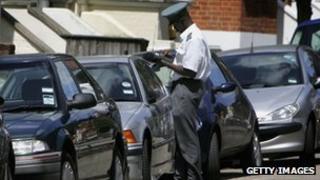 Councils in England should provide more parking spaces in town centres and cut down on speed humps, the secretary of state for communities has said.
New planning guidance will also say councils should ensure parking charges do not "undermine" local economies.
"Draconian" parking policies and "over-zealous traffic wardens" had driven motorists into internet retailers and out-of-town stores, Eric Pickles said.
Councils said such intervention made it harder for them to meet local needs.
The guidance, which is due to be published this week, says: "The quality of parking in town centres is important; it should be convenient, safe and secure.
"Parking charges should be appropriate and not undermine the vitality of town centres and local shops, and parking enforcement should be proportionate."
It urges councils to ensure that street furniture including lighting, railings, litter bins, paving and fountains are "well designed and sensitively placed".
"Unnecessary clutter and physical constraints such as parking bollards and road humps should be avoided," it adds.
'Economic damage'
"Draconian Town Hall parking policies and street clutter can make driving into town centres unnecessarily stressful and actually create more congestion because of lack of places to park," Mr Pickles said.
"Anti-car measures are driving motorists into the arms of internet retailers and out of town superstores, taking their custom with them.
"Over-zealous parking wardens have inflicted real damage on local economies and given many towns and councils a bad name.
"Town Halls need to ditch their anti-car dogma. Making it easier to park will help support local shops, local jobs and tourism."
But a spokesman for the Local Government Association, which represents more than 370 councils in England and Wales, said: "Councils work hard to try and boost trade and keep High Streets vibrant through parking incentives such as free short-stay, cheaper evenings and free Sundays.
"Creating more spaces in town and city centres where there is no room for them is simply not the way to draw more shoppers to the High Street.
"Parking measures help avoid congestion in our high streets.
"In fact, the government's own figures show charges in England are falling in real terms while councils invest any revenue back into transport services like filling potholes and road improvement projects.
"The more government continues to intervene in this way, the less flexibility local authorities have to react to the individual needs of local shoppers, residents and traders and support local businesses and High Streets in their area."
The government says the new guidance is part of an online guide that replaces 7,000 pages of previous "planning practice guidance" documents, and also part of a wider initiative to support parking and local shoppers.