£1.4bn 'wasted' on NHS redundancies, says Labour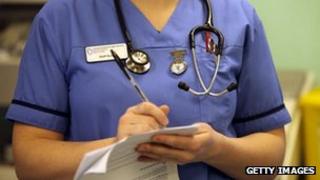 Some £1.4bn of the NHS budget has been spent on redundancies since the coalition came to power, Labour says.
Shadow health secretary Andy Burnham said the sum was "waste on a colossal scale at a time when the NHS needs every penny it can get".
Labour's figures are based on the NHS in England's accounts for 2012-13, which were published last week.
Health minister Norman Lamb said the government was slimming down an "over-bloated bureaucracy Labour created".
Mr Burnham told BBC Radio 5 live the redundancies, many of them compulsory, stemmed from a restructuring of the NHS "no-one wanted and nobody voted for".
Strategic health authorities and primary care trusts were abolished in April under the terms of the Health and Social Care Act, with GPs given more responsibility for commissioning services.
Mr Burnham said the NHS' accounts showed there had been a total of 32,000 pay-offs since the coalition government was formed in 2010.
The latest figures showed more than 950 health workers received six-figure redundancy packages last year, up from around 620 in 2011-12, he added.
"We've had thousands of six-figure pay-offs for managers at a time when thousands of nurses are getting P45s," he said.
"Now if that doesn't show a government with its priorities wrong, then I don't know what does," said Mr Burnham.
'One-off cost'
The shadow health secretary accepted that while there was a case for reducing the number of managers in the NHS, it would have been "much better and much cheaper to do that through a voluntary route".
Mr Burnham said he was raising the issue of NHS redundancies after arguing recently that Labour needed to "shout louder" ahead of the next general election.
"People like me in the shadow cabinet - we need to be out there, week after week, exposing what this government are doing, but then putting forward positive plans that people can vote for," he said.
Mr Lamb told 5 live the Department for Health expected the total cost of redundancies since the reorganisation in April to be around £630m
"This is a one-off cost of sliming down the massive over-bloated bureaucracy Labour created when they were in office.
"They were spending money on a vast bureaucracy. We have managed through these reforms to reduce the cost of management and administration and every year we will be saving £1.5bn which will be reinvested in patient care."
Mr Lamb said he was confident the public would appreciate money being saved from the cost of administering the health service if it was to benefit front-line patient care.
According to a National Audit Office report published last month, the NHS changes introduced in April had cost £1.1bn to implement, and the Department of Health was "confident" the total costs would not exceed £1.7bn.
The NAO put the cost of redundancies stemming from the new NHS England structure at £435m.
The report also stated that since the changes had been brought in 10,000 full-time employees had left at an average cost of £43,095.
The NAO found 44 "very senior managers" laid off as a result had received up to £578,470 in redundancy payments. The average pay-off had been £277,273 and the lowest £33,771.
A Department of Health spokesperson said cutting administrator posts would save £5.5bn in the lifetime of the current parliament.
"Last year we started changes that put doctors and nurses in the driving seat as they are best placed to take decisions about care for their patients.
"The changes made as a result of the reforms mean a huge net gain for the taxpayer."