Diane Abbott: Polls swaying Labour's immigration stance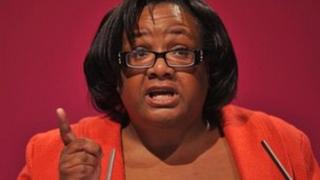 One of Ed Miliband's frontbenchers has questioned the party's position on immigration, and suggested Labour's leader is being swayed by polling.
Shadow health minister Diane Abbott said Mr Miliband was "doing his best" and had his "heart in the right place".
But what "weighs with him is the polling which shows what the Tories are doing on immigration is popular".
Mr Miliband has hardened the party's stance, saying Labour failed to hear public concerns in the past.
In an interview with Progress magazine, Ms Abbott said: "I know that, on this issue, Ed's heart is in the right place and he's trying hard to position us correctly."
But there was a lack of voices at a senior level making the case for immigration.
She said polling not only influenced the leader but also "certainly weighs with other members of the shadow cabinet".
"Not that many members of the shadow cabinet represent a diverse London constituency and views about race and immigration are different once you step outside London if you think about it," she said.
"So I think Ed himself means well and is doing his best but as a party we should do [more] because, it's what I said, it's a downward spiral."
A Labour source said: "Ed Miliband made clear in his speech that immigration has brought Britain huge benefits. But immigration can also affect public services, jobs and wages and Labour must deal with those issues."
In March the shadow home secretary Yvette Cooper acknowledged mass migration caused strains and said Labour had made mistakes on immigration in the past.
Ms Abbott's comments are not a response to the recent controversy about a speech on immigration by Chris Bryant, as the interview was conducted before this took place.