Welfare overhaul is in serious trouble, says Liam Byrne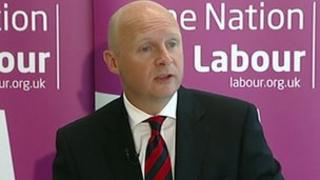 The government's welfare overhaul is in "serious trouble" and is costing the taxpayer "up to £1.5bn", says Labour.
Liam Byrne said he hoped Universal Credit could be saved and suggested Labour would work with the government to "get things straight".
But he said failures on that project, employment schemes and housing benefit changes had run up the welfare bill.
The government said his figures were "ludicrous" and the speech a "last ditch attempt" to keep his job.
In what some speculate may be Mr Byrne's last speech as shadow work and pensions secretary, ahead of a Labour reshuffle, Mr Byrne levelled a personal attack at cabinet minister Iain Duncan Smith, suggesting: "There seems to be something very wrong in the mind of the man at the helm of DWP."
"He has a mandate to reform but the instruction to deliver appears to have got lost somewhere in his office."
'Going badly wrong'
Labour says problems with Universal Credit, the Youth Contract, Work Capability Tests which assess claimants for benefit eligibility, the Work Programme and the spare room subsidy - called the "bedroom tax" by critics - are set to cost the taxpayer £1.4bn.
In his speech, Mr Byrne said reforms were "going very very badly wrong" and were hurting "some of the most vulnerable people in Britain".
He said Labour backed Universal Credit, which is due to replace the majority of out-of-work benefits by 2017, "in principle" but "the implementation is a disaster," with extra costs likely to add up to £300m to implement by 2016-17. Mr Byrne says he has written to the DWP to call for cross-party talks "to see exactly how bad things are" with universal credit and "what's needed to fix them".
Labour says the government's Youth Contract, which provides apprenticeships and work experience for unemployed 18 to 25-year-olds, is set to cost taxpayers an extra £457m in jobseeker's allowance payments before April 2015, because it remains under-subscribed.
Mr Byrne said the "bedroom tax" "should be dropped, and dropped now" - suggesting it was costing an extra £102.5m to implement between 2013 and 2015.
And he called for Atos, the private company running work capability assessments - which test people's eligibility for Employment and Support Allowance - to be given "weeks" to get back on track or lose its contract. He said the cost of appeals "against bad decisions" had soared 40% in the last year and predicted they would cost £287m over the Parliament.
Labour would bring "social security spending" under control and "tackle these delivery problems head on", he said.
But his figures were questioned by the government, which said the £300m announced for Universal Credit for 2015-16 was not "extra" as they had not previously announced the budget for Universal Credit that year and said it was "a complete nonsense" to suggest that as evidence of "chaos".
'Ludicrous'
And it said Labour's calculation that the Youth Contract would cost an extra £457m was "ludicrous", as it was an estimate based on the number of employers currently receiving "wage incentives" to take on young unemployed people rather than the actual number of jobs found through the scheme.
The DWP says universal credit and all other elements of its "aggressive welfare reform agenda" are on track and rejects Labour's claims of financial mismanagement.
A spokesman for Mr Duncan Smith said Mr Byrne was only interested in trying to save his job.
"His talk of wasted money is frankly laughable when you consider Labour have voted against £83bn worth of savings to the welfare budget.
"Labour is panicking - after a summer of discontent, here is yet another disastrous speech, void of any ideas. Same old Labour is in the wrong place on welfare. They want people on benefits to make more money than the average hard-working family earns. They want unlimited amounts of benefits to be a basic human right."
In a question-and-answer session, Mr Byrne also defended Labour leader Ed Miliband, following criticism from some Labour figures that the party was not getting its message across. Mr Byrne said Mr Miliband was a "man of courage and vision" who had helped "set the agenda and tempo for British politics".
He also dismissed talk that he may lose his job in a forthcoming reshuffle, telling the BBC that "the only job I am interested in" was the one Mr Duncan Smith was doing "or not doing" on welfare reform.