Maria Miller set to freeze stakes on fixed odds machines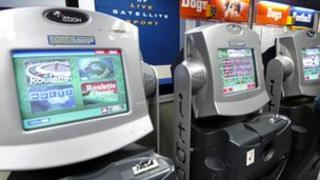 Gamblers playing roulette machines in betting shops will continue to be allowed to bet up to £100 a spin, the BBC understands.
Culture Secretary Maria Miller is due to announce the outcome of a review of gaming machine stakes and prizes.
But she is expected to resist calls to drastically reduce stakes on so-called Fixed-Odds Betting Terminals (FOBT).
Critics call FOBTs the "crack cocaine of gambling" but bookies say there is no evidence they cause addiction.
Unlike fruit machines in pubs, bingo halls and amusement arcades, where stakes are limited to £2, gamblers can bet up to £100 every 20 seconds on FOBTs - more than four times as fast as the rate of play in an actual casino.
The maximum payout is £500.
Despite being limited to four terminals per shop, FOBTs now account for almost half the big bookmakers' annual profits and have led to an increase in the number of betting shops on Britain's high streets in recent years.
'Jumped for joy'
According to figures from the Gambling Commission, the gross profit from FOBTs in 2012 was £1.4bn.
Adrian Parkinson, of the Campaign for Fairer Gambling, says the gambling industry "jumped for joy" when the previous Labour government opted not to outlaw them in the 2005 Gambling Act, deciding instead to place them "on probation".
And he predicted a similar reaction when the Ms Miller announces the outcome of a triennial review of stakes and prizes on all gaming machines, including FOBTs.
The Department for Culture Media and Sport has declined to comment ahead of the announcement, although industry and government sources have told the BBC they understand the status quo will be maintained for now.
A DCMS spokesman said: "We are finalising the government's position on stakes and prizes following the public consultation and will publish our response in due course."
The triennial review is aimed at boosting growth in the gambling industry "by stripping away unnecessary red tape and stimulating private sector investment".
Ms Miller rejected the recommendation of a committee of MPs to allow higher stakes on FOBTs.
'Hard gambling'
But campaigners say the only way to limit the potential harm is to dramatically reduce stakes and prizes - and that there is no place for high-stakes Las Vegas-style games in easily accessible High Street venues.
"Electronic gaming is considered one of the hardest forms of gambling, in particular when allowed at high-stake levels. This is why hard gambling is confined to highly regulated, destination venues," said Adrian Parkinson.
Mr Parkinson, a former regional manager for bookmakers the Tote, who trialled early versions of FOBTs in his shops, says there is plenty of evidence they cause problem gambling, with 28% of calls to Gamcare's helpline now related to them.
And although the industry has pledged to introduce a new code of conduct, he claims previous attempts to self-regulate, by allowing players to limit their own stakes on-screen, had little impact.
The industry also went back on its commitment not to introduce other casino games, such as blackjack, on to FOBT terminals and "circumvented" a ban on players using debit cards by allowing them to load money on to the machines from the service desk, claims Mr Parkinson.
'Jobs risk'
But the Association of British Bookmakers, which represents major bookmakers such as Ladbrokes, William Hill and Paddy Power, says there is no direct evidence that FOBTs cause gambling addiction and research suggests "problem gambling is about the individual player and not a particular product".
A spokesman said: "A reduction in stakes and prizes would therefore have little, if any, impact on the level of problem gambling.
"Instead, it would automatically put 40,000 jobs and 8,000 shops at risk for an industry that supports approximately 100,000 jobs and pays nearly £1bn in tax in the UK each year."
He said the ABB's new code of conduct would focus on "keeping gambling crime free, ensuring that gambling is conducted fairly and protecting the young and vulnerable in society."
"A player-centred approach that focuses on providing customers with the self-help tools they need to avoid excessive or irresponsible gambling, better education and clearer guidance are just some of the measures that the ABB will be focused on in the coming months," he added.
'Anecdotal evidence'
The ABB concedes that there is "a severe lack of evidence when it comes to measuring the impact of gaming machines" but says it is co-operating with research.
According to the Gambling Commission, the industry "volunteered very little data" on staking and player behaviour to the triennial review and has warned it to increase transparency or face a government crackdown.
But, the watchdog added, it was encouraged that 13 major gambling operators were now providing data on player behaviour to a separate investigation into FOBTs by the Responsible Gambling Trust, which is due to report next year.
Local government minister Don Foster, who has been campaigning for a reduction in FOBT stakes, said: "I am optimistic that the outcome of that review will give us the evidence we need to take action on the stakes of B2 machines (FOBTs) and other issues like the rate of spin."
The Lib Dem MP said there was "lots of anecdotal evidence" that FOBTs led to problem gambling and "I am pretty convinced myself".
But he added: "We need to have empirical evidence and that is what the review is seeking to find."