Labour 'oldies' not coming back, says David Blunkett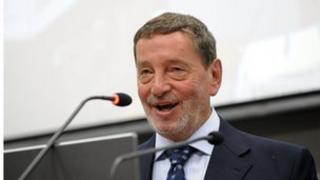 Labour's old guard need to find "new ways to contribute" to the party from outside the shadow cabinet, David Blunkett has told the BBC.
Ed Miliband has faced calls to bring back big hitters such as Alan Johnson, Alistair Darling or Mr Blunkett to help get Labour's message across.
But Mr Blunkett said it was clear Labour's "oldies" would not be returning to frontline duty.
Instead, they could give advice to "younger, enthusiastic" colleagues.
Mr Miliband is set to reshuffle his top team when MPs return from their summer break amid criticism from some in the party that the current line-up was failing to make enough of an impact.
The Labour leader has faced calls from some Labour figures to bring back familiar faces from the Blair/Brown era to beef up the party's media profile.
But he is expected to ignore that advice and concentrate on promoting younger talent.
'Higher profile'
Among those tipped for promotion are Stella Creasy, whose campaigns on payday lending and Twitter trolls have grabbed headlines, and shadow chief secretary to the Treasury Rachel Reeves.
Shadow education secretary Stephen Twigg, work and pensions spokesman Liam Byrne and shadow local government secretary Hilary Benn face the sack, according to the Daily Mirror, but Andy Burnham will stay at health despite recent criticism of the party's performance under Mr Miliband.
Mr Blunkett, who served as home secretary and education secretary during the Blair/Brown era, told BBC Radio 4's Today programme that he agreed with former cabinet colleague Lord Prescott, who said on Sunday that Mr Miliband should "kick out" under-performing shadow cabinet members.
He said the party needed to "work out how we can get a higher profile" and he hoped Mr Miliband would use the party's Autumn conference to begin setting out the policies on which he will fight the next election.
But he said Mr Miliband was right to focus on the future when it came to selecting his top team.
'Younger people'
"You can't live in, or reflect, the past. People want to know about the future. Too often we have actually been fighting the previous election," he told BBC Radio 4's Today programme.
"Secondly, I think it was made clear earlier in the year, that the oldies wouldn't be coming back so we need to find new ways of being able to contribute.
"What we could do better is probably us joining up with younger, enthusiastic, energetic, up and coming people so that we can give them a bit of advice - if they are prepared to listen to it."
Asked if he thought Ed Miliband had what it takes to win the next election, Mr Blunkett said: "I think Ed Miliband has demonstrated on a number of occasions that he can do it - but he won't be able to do it alone. Nor should he."
Referring to the prime minister of the post-war Labour government, who was known for his low-key style, he said: "Clem Attlee wasn't the most vibrant, in public terms, proponent. He was a fantastic leader of the Labour Party."