William Hague: Mid-East turmoil 'to last decades'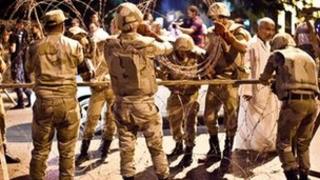 It will take "years or maybe decades" for the turmoil in the Middle East to "play itself out," UK Foreign Secretary William Hague has told BBC News.
Mr Hague said the situation in Egypt was "very bleak" and there was only a limited amount Western powers like Britain could do to help resolve it.
"We have to do our best to support democratic institutions" without taking sides, he added.
He is to meet fellow EU foreign ministers later to discuss Egypt.
Hundreds of people have died in five days of violence between supporters of ousted Egyptian president Mohammed Morsi and the Egyptian military.
Egyptian security officials have said that more than 20 police officers have been killed in an attack in the north of the country.
At least 36 Muslim Brotherhood prisoners have died while trying to escape during their transfer to a prison outside Cairo.
'Keep faith'
Mr Hague told BBC Radio 4's Today programme the UK government had reacted effectively to the situation in Egypt.
"What we've done in Britain so far is that we have suspended projects with the Egyptian security forces. We have revoked a number of export licences, and I think then among the European countries we should review together how we try to aid Egypt, what aid and assistance we give to Egypt in the future.
"So we have to respond seriously to this without excluding future assistance, nor removing all influence of the situation - foreign policy is often about striking the right balance."
He said it was "hard to overstate the levels of hatred and mistrust between the various sides of politics in Egypt" but he did not accept that "there is nothing at all we can do about it".
"Our influence may be limited. It is a proudly independent country and there may be years of turbulence in Egypt and other countries going through this profound debate about the nature of democracy and the role of religion in their society.
"But we have to do our best to promote democratic institutions, to promote political dialogue and to keep faith with the majority of Egyptians who just want a free and stable and prosperous country."
'Bad sign'
Mr Hague said what is happening now in the Middle East was "the most important event so far of the 21st century, even compared to the financial crisis we have been through and its impact on world affairs".
"I think it will take years, maybe decades, to play out, and through that we have to keep our nerve in clearly supporting democracy, democratic institutions, promoting dialogue and there will be many setbacks in doing that and we should be surprised when they take place."
Mr Hague said the loss of Mohamed ElBaradei from the interim government in Egypt was a blow and a "bad sign" and reflected Britain's own concerns over violence and force used to clear protests.
Shadow Foreign Secretary Douglas Alexander, for Labour, urged Mr Hague to "take a lead in pushing for a robust joint response from EU governments" including a review of aid to Egypt.
"Whilst the bloodshed continues, the UK government must now agree to Labour's call for an urgent review of all arms export licenses granted to Egypt," he said.
Former Lib Dem leader Sir Menzies Campbell said Western leaders could not stand by and do nothing.
"If it wasn't a military coup then, it is certainly a military coup now. And that means the Americans are bound by their statutory provisions to take action - and so far as the EU's concerned then it's fairly clear from what William Hague was reported as saying, that his mind is moving in that direction as well," he told BBC News.
European Union ambassadors are preparing for a meeting to discuss the crisis in Egypt.
On Sunday, European Commission president Jose Manuel Barroso and European Council president Herman Van Rompuy issued a rare joint statement warning that the EU would "urgently" review its relations with Egypt in the coming days.