Tory MPs must vote on future coalition - Graham Brady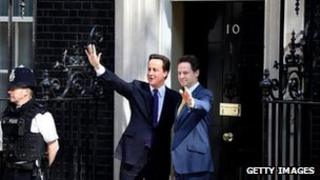 The chairman of the Conservative Party backbench 1922 committee Graham Brady has said it is "essential" Tory MPs get a vote on any future coalition deal.
He said that in 2010 the party "had no mechanism... to debate what we wanted to do" while the Lib Dems had put the coalition deal to its MPs and members.
This had helped smooth life in a coalition for the Lib Dems, he added.
The Daily Telegraph has reported David Cameron plans to put the text of any future coalition deal to his MPs.
It quotes a senior source as saying Mr Cameron wants Conservative MPs to put their names to any second coalition agreement and "dip their hands in the blood".
Although the idea of a vote was described as "tosh" by one cabinet minister, another told BBC Radio 4's The World at One that Conservative MPs would get a vote and that, in their view, the vote would be won.
Mr Brady said that the process in 2010 reflected the lack of experience of coalitions in the UK, and the fear that a deal had to be struck quickly to avoid unsettling the financial markets.
He said at the time he had preferred the option of a minority Conservative government being formed rather than a fully-fledged coalition.
Asked if he agreed that Tory MPs would back a coalition deal in future as the price of staying in power, he said it would depend on the circumstances at the time.
He told the programme that the Conservatives were a "joint enterprise" and MPs and party members should be consulted and involved in any future deal.
Conservative backbencher Douglas Carswell said he favoured a vote of all Conservative Party members, saying that could be done quickly and could lead to a "much better deal".
The party had, he said, "undersold our hand" during the 2010 negotiations.
The Daily Telegraph says ministers believe the lack of formal consultation with Tory MPs, peers and members had encouraged dissent among backbenchers.
Downing Street insisted Mr Cameron would be fighting for an overall majority at the next election, which is to be held in May 2015.