Mayoral chains ban defended by Labour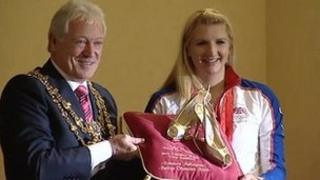 "Town Hall mayors unite. You have nothing to lose but your chains." To misquote Karl Marx, there's something of a civic revolution under way in the Nottinghamshire town of Mansfield.
Its executive mayor has been banned from wearing the town's historic chains of office.
Tony Egginton - directly elected as an independent in three successive polls - had proudly worn the chains for most of his 11 years as mayor of Mansfield.
But when Labour became the majority party in the council chamber, the civic regalia became a political target.
"We've had enough of seeing him parade in bling," said Labour leader Cllr Martin Lee.
"Quite honestly, I would rather see the chains put on display in the town's museum. They are just not part of modern 21st Century politics," he added.
Tony Egginton is adamant the citizens of Mansfield expect to see him wearing the chains for big public events.
'Disappointed for children'
When local Olympic golden girl Rebecca Adlington had a bus open-top homecoming after the Beijing games, mayor Egginton's chains added to the golden glow.
But it now looks as though the official opening of Mansfield's new bus station this spring may be the last big public event at which he could wear the chains.
"I'm rather saddened by it all. It's just the type of petty politics that I've always fought against," said Mayor Egginton.
"I really can't understand why Labour are making such a fuss, There are far more important issues affecting this town. That's my priority.
"But I'm particularly disappointed for the school children because when they come to see me, they want to see the chains.
They were a gift to Mansfield from the Duke of Portland in 1891.
Since the 1970s the chains have been worn by the chairmen of the district council. That all changed in 2002, when the town's voters backed the introduction of a London-style executive mayor.
'Outraged' by decision
Now the Labour-dominated panel of trustees, which is responsible for the civic regalia, has ruled that only the council chairmen - elected by councillors - should wear the chains.
"I'm outraged by that decision," said businessman Stewart Rickersey, a supporter of Mayor Egginton.
He's now raised the issue with the Local Government Ombudsman and Eric Pickles, Secretary of State for Communities and Local Government.
"The people of Mansfield will find it very odd that their mayor can't wear the chains of office. I'm determined to challenge Labour's decision," Mr Rickersey added.
It's become such a sensitive issue that the chains have been removed from the glass display cabinet next to the mayor's office. One reason given is insurance should they be stolen.
They're now locked away in a safe inside Mansfield's Civic Centre, until Mayor Egginton and his Labour critics can reach a deal.