Gibraltar row: Cameron asks EU to monitor border checks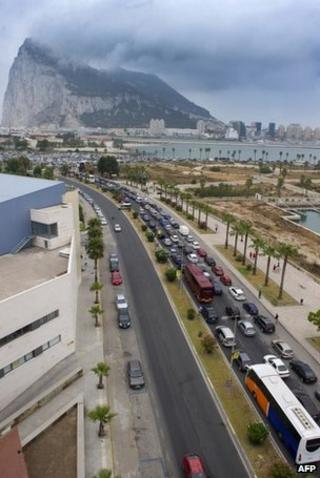 Britain has asked the EU to "urgently" send a team to Gibraltar "to gather evidence" on extra border checks at the centre of a growing row with Spain.
PM David Cameron spoke to EU Commission President Jose Manuel Barroso to raise "serious concerns" that Spain's actions are "politically motivated".
Britain says the checks break EU free movement rules but Spain says Gibraltar has not controlled smuggling.
A team of EU monitors had been due to go to the Gibraltar border next month.
But Mr Cameron wants the monitors to be sent there immediately.
Spain claims sovereignty over Gibraltar, which is a British overseas territory. There have been lengthy traffic delays at its border with Spain since the extra checks began.
The UK says it is considering legal action over the checks, which Spain argues are needed to stop smuggling and are proportionate.
Spain also denies they have been imposed in retaliation for an artificial reef installed by Gibraltar which Spain says will disrupt its fishing fleet.
'Sporadic nature'
Downing Street said on Friday that Mr Cameron had called Mr Barroso to raise "serious concerns" that Spain's actions were politically motivated and "disproportionate" - and broke EU rules on freedom of movement.
He said the UK wanted to resolve the row through "political dialogue".
But as the checks continued, Mr Cameron added, the UK was "collating evidence on the sporadic nature of these measures which would prove that they are illegitimate".
"In the meantime, we believe that the European Commission, as guardian of the treaties, should investigate the issue," a Downing Street spokesman said.
He said the prime minister had urged President Barroso to "send an EU monitoring team to the Gibraltar-Spain border urgently to gather evidence of the checks that are being carried out".
"The PM emphasised that the Commission has a responsibility to do this as part of its role overseeing the application of [European] Union law," added the Downing Street spokesman.
A European Commission spokesman said President Barroso had told Mr Cameron the situation was being monitored to "ensure respect for EU law".
"President Barroso also expects that this matter is addressed between the two countries concerned in a way that is in line with their common membership of the EU," the spokesman added.
Deputy Prime Minister Nick Clegg is also due to speak to his Spanish counterpart, Soraya Saenz de Santamaria, to press the UK government's concerns.