UKIP treasurer Stuart Wheeler denies sexism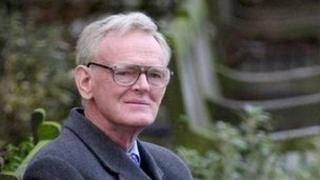 UKIP treasurer Stuart Wheeler has denied being sexist by saying women were "nowhere near as good as men" at games like chess, bridge and poker.
The spread-betting tycoon made the comment during a debate on EU proposals for gender quotas in the boardroom.
Mr Wheeler said he had been explaining why companies should not be forced to appoint more women to their boards.
He was accused of sexism by fellow panellist Clare Gerada, chairman of the Royal College of GPs.
Explaining his comments on BBC Radio 4's The World at One, he said: "I pointed out that in certain areas, women did not do as well as men, and then I cited poker, bridge and chess.
"My point is that there are some things that men are better than women at, some things that women are better than men at, and you don't necessarily want to impose a minimum of either sex at the top of any profession or at the top of any board."
'Self-evidently sexist'
Mr Wheeler, a former Conservative Party donor who was expelled from the party by David Cameron over his support for UKIP, said the anti-EU party was attracting more women and was taking steps to achieve this but ruled out quotas for candidates.
Asked if he was suggesting men were more intelligent than women, Mr Wheeler said: "No, no, certainly not... all I was saying was there are areas where women are not as good as men. I'm sure there are areas men are not as good as women and therefore I don't think it's always essential to have a minimum number of either."
UKIP MEP candidate Diane James, who came close to winning the Eastleigh parliamentary by-election in March, said Mr Wheeler's comments had been taken "totally out of context" and the party was being "picked on".
"The media would love to present UKIP as a totally misogynist party. It quite clearly isn't. Look at myself, look at the other females within the party that have achieved very, very high levels of office," she told the BBC News channel.
Asked about Mr Wheeler's comments at the meeting on Wednesday night, Dr Gerada said they were "self-evidently sexist".
"I hope it was tongue in cheek because there is no evidence whatsoever that men are better at poker, bridge or chess.
"And even if they were, what does that mean about the skills you require on a board?"
'Bunga bunga'
She told the BBC News channel she did not agree with quotas but said "we certainly need to have more women in senior roles".
Dr Gerada added that her 82-year-old mother regularly beat men a "quarter her age" at bridge.
It was also reported, by The Times, that UKIP MEP Godfrey Bloom told the same event he and party leader leader Nigel Farage wanted an invitation to a "bunga bunga" party hosted by former Italian Prime Minister Silvio Berlusconi.
Mr Wheeler told BBC News Mr Bloom had clearly been joking and he hoped it did not give the impression women were not taken seriously by the party.
Mr Wheeler worked as a barrister before setting up IG Index in 1974. The company allowed UK residents to speculate on the price of gold at a time when exchange controls prevented them from buying it, except at a premium.