George Galloway's ex-aide and policeman face court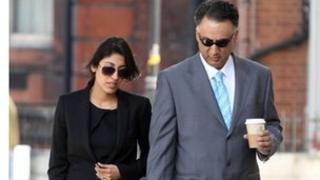 A former aide to Respect MP George Galloway and a Met Police officer have appeared in court charged with offences related to misconduct.
Aisha Ali Khan, of Keighley, West Yorkshire, was the Bradford West MP's parliamentary secretary.
She has denied Mr Galloway's claims she plotted a "dirty tricks" campaign against him with her husband Det Insp Afiz Khan using fake email accounts.
Mr Khan, part of the Met's specialist operations unit, is suspended.
The pair appeared at Westminster Magistrates' Court, where deputy senior district judge Emma Arbuthnot sent the case to Southwark Crown Court.
Their next hearing is on 28 August. Unconditional bail was renewed.
Mr Khan has been charged with two counts of misconduct in a public office and four data protection offences between May and September last year.
Mrs Khan faces accusations of encouraging misconduct in a public office, the Metropolitan Police has said.
She is also accused of encouraging the obtaining of personal data without consent on or about August 24 2012.
A Metropolitan Police spokesman said the arrests came as a result of an investigation by the directorate of professional standards into a complaint from a member of the public.
The complaint centred on the actions of the officer, the spokesman said.
One data protection charge in relation to Mr Khan is connected to allegations made by the complainant.
The other charges are as a result of information that has been identified as part of the investigation, the spokesman added.