UK housing market has turned a corner, says government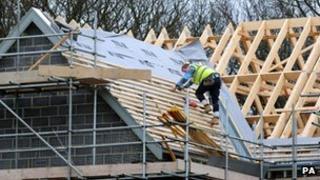 The housing market has "turned a corner", partly because of the Help to Buy scheme, the government has claimed.
Figures show that the housing stimulus programme in England has attracted 10,000 successful applications since it was launched in April.
The Equity Loan Scheme effectively underwrites 95% mortgages and allows people buying newly built homes to proceed with a deposit of just 5%.
Labour said the figures were "very modest".
The government has set aside money to fund 73,000 applications to the Equity Loan Scheme.
A five-year interest-free loan from the government provides another 20% of the price and a mortgage covers the rest.
It will be extended to all homes in the UK costing less than £600,000 from next year.
Communities Secretary Eric Pickles said the housing market had "turned a corner", adding: "This government's package of measures to boost the housing market is working, with housebuilding and housing supply on the up. The tough decisions we've taken to tackle the deficit are now delivering a sustainable increase in housing and providing real help to hard-working people.
"With over 10,000 reservations in four months, it's clear that the Help to Buy: Equity Loan is working well. By dealing with the big challenges, we are helping thousands of young people and families get on and move up the housing ladder, and Britain is building again."
And communities minister Brandon Lewis told BBC Radio 4's Today programme: "We've bought in this whole structure of measures to ensure firstly that new homes are getting built - nearly 320,000 over the last couple of years - and also that people have got access to the finance to buy that first home.
"That has a double benefit. First of all it gets people into their first home. That's good news. But it also gives confidence to the house builders.
"They've got the confidence money will be there for people to buy those houses."
But shadow housing minister Jack Dromey, for Labour, claimed the biggest housing crisis in a generation was continuing.
The Home Builders Federation said the scheme had been an "unqualified success" and its extension next year to homes that were not new builds would have a "potentially bigger influence" on the market.
'Housing bubble'
However, last month the Institute of Directors described the extension of the scheme as "very dangerous" because it could drive up prices.
Business Secretary Vince Cable said he was "worried" about the potential of "another housing bubble".
BBC political correspondent Chris Mason said the recession led to a slump in house building to levels not seen since the 1920s - mortgage lenders were nervous and prospective buyers perhaps even more so.
Meanwhile, Royal Institution of Charted Surveyors (Rics) research has suggested that home buyer activity is increasing fastest in parts of the UK where prices have been most depressed.
Rics said buyers were now returning to the market in their biggest numbers for four years, with the largest rise in activity in the West Midlands and north-east England.
However, housing and homelessness charity Shelter said home ownership was "slipping out of reach" for many families and young people because of rising prices.
Head of policy Rowan Harding told the BBC: "Instead of introducing schemes like guaranteeing mortgages, which won't help anyone, they [the government] need to build many more genuinely affordable homes like shared ownership homes."