Andy Burnham: Labour 'needs to put cards on table'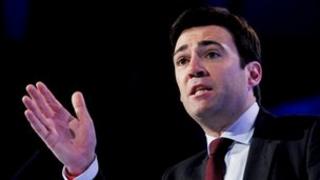 Labour must "put its cards on the table" and produce attention-grabbing policies by next spring or risk losing the next election, shadow health secretary Andy Burnham has warned.
The former minister told the Guardian his party must "shout louder and speak in a way that captures how people are feeling and thinking".
But he insisted he had the "utmost respect" for leader Ed Miliband.
The Tories said his comments spoke of a "lack of leadership" in the party.
Mr Burnham, who stood for the party leadership against Ed Miliband in 2010, said "many voters had decided the coalition is a failure as a government", but "what they aren't yet convinced is that we have the answers".
He said the window to persuade voters of that would not last "much beyond next spring".
His comments follow criticism of Labour from its own backbenchers.
On Monday, Geraint Davies wrote in the Independent that a failure to rebut "relentless" Conservative attacks had made Labour look "like a shamefaced schoolboy".
That came after fellow Labour backbencher George Mudie told BBC News he did not know what the party stood for and that it was "slightly hesitant and confused" and not "setting the agenda".
Mr Mudie said Mr Miliband was sometimes "doing things that he thinks a leader should do, that he shouldn't do".
Asked if he was echoing those colleagues' concerns, Mr Burnham replied: "No, this isn't a criticism of Ed... I'm making it a criticism of modern politics."
He criticised what he called the "professional politician generation".
"I was schooled in this, kind of, 'how do we make a press release today that embarrasses the opposition?'" he said.
"That's the kind of politics that everyone was doing and the kind of culture developed where you're scrabbling over a bit of the centre ground with micro-policies that are designed to just create a little couple of days' headlines and create a feeling - but not change much else."
'Bold policy'
Mr Burnham, who was health secretary under Gordon Brown, acknowledged tension in the shadow cabinet over his radical plan to integrate social care into the NHS.
"What better way for Labour to say it's relevant to the 21st Century than to bring forward a policy as bold in this century of the ageing society as the NHS was in the last?" he said.
"That's the way that Ed Miliband wins, by having policies that just knock the others off the pitch, basically. And that's what I want to give him."
And he criticised Labour's opening up of the NHS to private sector firms.
"Once the market takes a hold on the system it will destroy what's precious about it," he said.
"We had been building a policy that had been saying it doesn't matter who provides healthcare as long as it's free at the point of delivery, but I'm saying it does matter."
A spokesman for Mr Burnham said: "Andy is very loyal to Ed Miliband" and he made these comments in the Guardian at this time because "Labour needs to be heard" and "needs to shout louder".
He said this was "not an internal debate about the Labour leadership" but about "taking the fight to the Tories".
"Andy is part of a One Nation Labour team led by Ed Miliband that is setting out bold plans including for whole person care, energy market reform, fairer taxes and a focus on the forgotten 50% of children that don't go to university," he added.
Conservative chairman Grant Shapps said Mr Burnham's comments showed "even senior members of Labour's top team think Ed Miliband doesn't have what it takes to stand up for hardworking people".
"His lack of leadership and his lack of ideas shows he's a weak leader of a party that just hasn't changed," he added.
"It's the same old Labour Party and hardworking people would pay the price of its failure to face up to the mess it created."