Fracking opponents consider election bid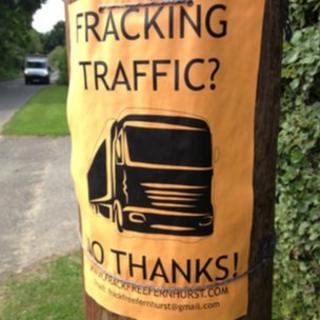 A group of people living in a Sussex village which could be the next flash-point in the row over fracking have told the BBC they may stand against their Conservative MP at the general election.
Research has shown that a swathe of land across the south of England, in areas dominated by Tory MPs, could have vast deposits of gas in the ground below it.
And, this week, the prime minister said the country was "missing out big time" if it didn't embrace fracking.
In the village of Fernhurst, near the West Sussex-Surrey border, an energy firm is about to ask for planning permission to drill for oil and gas.
You can see the first orange poster on the grass verge as you drive down the hill into the village. They're scattered around the centre by the post office.
Drive out to Martyn Knights's house on the edge of the village and they're stapled to trees and telegraph poles.
"Fracking traffic? No thanks!"
Mr Knights took me to the bottom of his garden to see a picturesque scene, to say the least.
Then he described what could be happening in the future a few hundred metres away in a neighbouring field.
"It's 140ft (42.7m) high, the actual drilling rig. It will be 10m (33ft) over the trees," he said.
"It runs 24/7 and it's fully lit."
Mr Knights has learnt a lot about fracking in a very short period of time because, six months from now, energy firm Celtique Energie could be making final preparations to drill in a field directly behind his house.
You might say he is the definitive "nimby".
Nimby - an acronym of "not in my backyard" - is a derogatory term used to describe people who oppose development for self-centred reasons.
But he says his opposition is also a principled stand.
He doesn't want dozens of lorries driving daily along the narrow roads nor the threat of sound and light disruption.
He's also worried about water contamination and the still unanswered question - is it completely safe?
'Disenfranchised'
His neighbour, Marcus Adams, was so concerned he founded the Frack Free Fernhurst opposition group.
"It's easy to call us nimbys," he told me.
"But no-one is actually willing to engage us on the debate to find out why we don't want this.
"Of course we don't want it here but, actually, we don't want it anywhere," he said.
They've had village hall meetings. They're campaigning locally.
But he said they've struggled to engage politicians with their message.
The campaigners say they're disappointed their local Tory MP, Andrew Tyrie, won't hear more about their case. He supports fracking but he also has concerns about the heavy traffic involved.
Mr Tyrie's office said he didn't want to give us an interview or a statement
He's got a big majority - he's safe in his Chichester seat.
So what do those angry Tory voters - who don't want fracking - do? They can't turn to the UK Independence party, who are even keener on fracking.
Do they simply not vote?
"No, I don't think we would stay away," says Mr Adams.
"I can easily see an independent, a single-issue candidate, standing at the next general election."
"Is that person you?" I ask.
"Yes, I'm definitely willing to stand against Tyrie," he says.
"We as a group feel completely disenfranchised at the moment."
Greenpeace claims fracking could become a major headache for the Tories at the next election.
It claims fracking could take place in a quarter of the most marginal seats and it says 13 cabinet ministers have had licences to drill issued in their constituencies - most of them across the South, in places like Fernhurst.
The minister whose job it is to sell fracking to the British people is also affected - Michael Fallon could have gas and oil underneath him in Kent.
He told me: "You do occasionally get a tension between a national policy and views that are very strongly held locally."
He acknowledged that ministers could be championing the idea on the one hand but also raising concerns about their patch.
Robin Barnes is the man who said yes to fracking in Fernhurst - he owns the land where the drilling could happen.
Mr Barnes, who cannot see the site from his house, didn't want to give an interview but we spoke in private.
He told me the issue had been extremely divisive in the village. He said his house had been threatened and he now had CCTV.
He says he too has concerns about the environmental impact but he believes there's been a lot of misinformation.
And with Chancellor George Osborne happy to claim fracking could be the answer to Britain's energy crisis, Mr Barnes told me more Conservatives should speak up in its favour.
There will now be a four-month process before the local authority decides whether to grant planning permission.
Drilling could start in Fernhurst next spring in the part of the village where, incidentally, they don't have gas because they are too far from the mains.