Government rejects central police commissioner register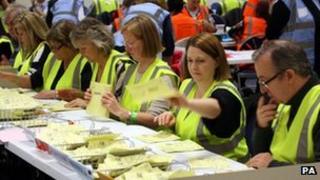 The government has rejected MPs' calls for a central register of pay, perks and financial interests of police and crime commissioners (PCCs).
PCCs, who set local policing priorities and hold forces to account, were elected in England and Wales in 2012.
But a Commons committee said they were not all meeting the same "standards of openness" and voters should be able to compare their PCC with others.
The government said it was not its role to run a central register of interests.
In May the Home Affairs Committee published its own register of PCCs - saying no-one in government was keeping track of them.
'High standards'
Its register suggested "a massive gap" between the salaries and types of second jobs carried out by PCCs.
The committee said an independent national body like Her Majesty's Inspectorate of Constabulary should compile the register.
But the government said it was not its role to establish and maintain a register.
It said it "expects high standards of transparency" and PCCs were obliged to publish a register of interests themselves which includes budgets, expenses and salary information.
The Home Office said it was working to help PCCs publish the information on the national police.uk website.
A spokesman said: "Police and crime commissioners have brought democracy into policing for the first time and given people a real say over priorities in their area ... The local electorate will judge whether PCCs are making best use of public money and hold them to account at the ballot box."
A previous investigation by the BBC found that the type of information published by different PCCs was widely varied, with no ready comparison available.