I owe Peter Cruddas an apology, says Cameron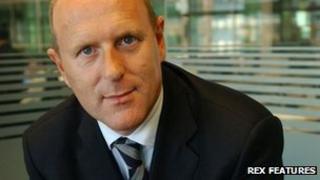 David Cameron has said he owes the Tory ex-treasurer an apology for the way he was treated after claims he had charged people to meet the prime minister.
He said he was "very sorry" he had not known more and reacted differently.
Peter Cruddas, who won a libel case against the Sunday Times over the allegations, said he had been "made to feel like an outcast" by Mr Cameron.
The judge said Mr Cameron's response to the allegations had subjected Mr Cruddas to "public humiliation".
Mr Cruddas was Conservative co-treasurer when the Sunday Times alleged in March 2012 that he had suggested to undercover reporters that major financial donors could get access to Mr Cameron, including attending meetings in No 10.
He resigned shortly afterwards, something Mr Cameron said at the time was "quite right" having called the alleged offer "completely unacceptable".
Mr Cruddas complained the articles suggested he had corruptly offered the chance to gain unfair advantage through secret meetings with the prime minister and won £180,000 libel damages last week.
Speaking on Wednesday, Mr Cameron said he was looking forward to meeting his former colleague later this year.
"I rather think I do owe him an apology," he said.
"Had I known at the time how badly the journalists had behaved, I might have been in the position to take a different approach.
"I am very sorry about that.
"I congratulate Peter Cruddas on his victory and on the verdict he has won.
"I think it is very deserved.
"He has done a huge amount for this country.
"I look forward to meeting him after the summer."
Speaking after the damages ruling last week, Mr Cruddas said: "The fact remains that, when the story broke, the behaviour of the Conservative Party made the whole thing a lot worse - the fact that Mr Cameron said it was quite right I resigned [when] he didn't have my side of the story.
"The Conservative Party cut me off within two hours of the story breaking and did not want to hear my side of the story.
"I was constructively dismissed from my role as party treasurer and made to feel like an outcast as the prime minister and the party lined up to criticise me on television and radio."
Mr Cruddas, who was also awarded £500,000 in legal costs, said his "good name had been restored".
In the court ruling, Mr Justice Tugendhat said Mr Cruddas had "suffered public humiliation from the prime minister".
Mr Cruddas, who before becoming treasurer was one of the party's leading donors, also succeeded in his claim for malicious falsehood against the newspaper.
The Sunday Times said it was "dismayed" to lose the case and intended to appeal.