Complaints call costs to be capped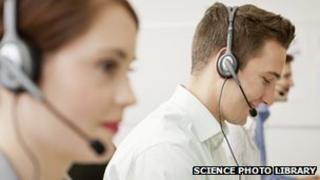 The government is promising to limit the cost of calling telephone numbers for customer inquiries and complaints from next summer.
Under new legislation, companies will be prevented from charging more than the rate for a call to a mobile or local landline number.
The rules, set out in a European Union directive, are due to come into force on 13 June 2014.
Inquiry and complaint calls cost up to 41p a minute for mobile phone users.
David Hickson, of the Fair Telecoms Campaign, welcomed the government's decision, telling the BBC: "We've seen the words in the draft legislation. There's no get-outs. There's no cop-outs."
'Great opportunity'
He added: "This is going to put across a clear message that using expensive telephone numbers is not an acceptable thing to do."
Companies will still be able to charge the higher rates when customers are purchasing goods or services, but not when they call afterwards to raise questions or complaints about them.
Consumer affairs minister Jo Swinson said the government had created a "great and important opportunity to benefit consumers, businesses and provide the right framework for a stronger economy".
But the changes will not affect government departments' helplines.
According to the communications regulator Ofcom, 0843 and 0844 calls cost between 1p and 13p a minute from landlines and, typically, between 15p and 41p a minute from mobile phones.
Calls to 0845 numbers cost between 1p and 10.5p a minute from landlines and from 12p to 41p from mobiles.
And, for 0870 codes, the rates are 2p to 10p and 21p to 41p.
Ofcom estimates that about 30,000 companies use the numbers.
The change is outlined in the Department for Business and Skills's response to the European Consumer Rights Directive.