Labour MPs turning on each other, says Tory minister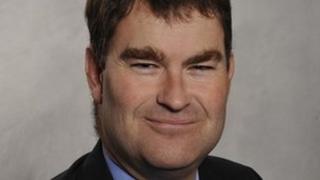 A Treasury minister has said Labour's discipline is breaking down, after one of the party's MPs appeared to question its economic strategy.
Labour's Geraint Davies said the "jury is out" among voters on whom to trust on delivering a strong recovery.
A failure to rebut "relentless" Conservative attacks had made Labour look "like a shamefaced schoolboy", he wrote in the Independent.
Minister David Gauke said Labour MPs were "turning on each other".
Mr Davies's comments come as his party launches an attack on the coalition's record in office, saying the average worker stands to lose £6,600 in real terms by the 2015 general election.
'Compelling case'
In his article, he claimed the outcome of the contest was "in the balance", despite a Labour lead in the opinion polls.
Mr Davies urged the party to make a "compelling case as to why Britain would be better off" with it in government.
He added: "The problem is that the electorate don't yet see a clear choice between the parties on cuts v growth. And the Tories have been relentless in asserting that Labour messed up the economy."
Mr Davies warned against being "diverted into a cul-de-sac of more cuts".
Leader Ed Miliband's recently committed his party not to reverse cuts in day-to-day spending unless savings could be found elsewhere or extra revenue secured.
In response, Mr Gauke, the Exchequer Secretary, told the BBC: "The reality is that they don't really have anything to say and they're now turning on each other and I think their own backbenchers are beginning to realise that the Labour leadership haven't really got a voice in this either."
The Conservative MP added: "Just look at today's supposed re-launch on the cost of living and yet none of the senior Labour figures are around to support it."
But shadow Treasury minister Chris Leslie denied their was a disagreement between Mr Davies and the party leadership.
He told the BBC News Channel: "He's saying make sure that we don't let the Conservatives get away with the lie that somehow it was Gordon Brown who single-handedly, in the UK, caused the global financial crisis."
Mr Leslie added: "He's taking about making sure that we don't let the Tories get away with that lie."