Q&A: Gibraltar row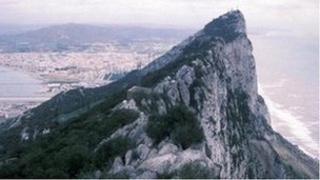 The UK government says it is considering legal action against Spain over the imposition of additional border checks in Gibraltar. What is the latest dispute about?
What and where is Gibraltar?
Gibraltar, less than six square kilometres (2.2 sq miles), is a limestone outcrop at the mouth of the Mediterranean. Standing nearly 430m (1,400ft) high at its peak, it is a British Overseas Territory, although Spain, which it borders, also claims sovereignty. The people who live there are British citizens but they run their own affairs under a chief minister.
The territory is self-governing in all matters - including taxation - except foreign policy and defence, which are dealt with by the British government. The Rock - as it is known - is also a popular tourist destination, particularly for visitors from Britain. Among its attractions are the local apes that can be seen on the Rock, a community of Barbary macaques.
Although Gibraltar is small, it is strategically important, standing at the mouth of the Mediterranean only 20km (12 miles) from the north coast of Africa. It has a UK military base, including a port and airstrip.
Why is Gibraltar back in the news?
The underlying dispute over the sovereignty of the territory has continued for centuries, but in the last couple of years it has manifested itself in the form of a clash over fishing rights. Both Spain and Gibraltar have claimed jurisdiction over the waters off the Rock, and both sides have complained about incursions into what they claim are their waters. Both sides have also invoked environmental laws in a bid to reinforce their claims.
The most recent spat erupted in July after Gibraltar dropped concrete blocks into the bay to start creating, it said, an artificial reef to encourage sea life to flourish in what it sees as its marine reserve. Spain said the blocks had been laid "without the necessary authorisation" in what it sees as Spanish waters, and both contravened its own environmental laws and damaged its fishing industry, because Spanish fishing nets were in danger of catching on the concrete reef blocks.
How did Spain react?
Shortly after this, Spain introduced more rigorous border checks at the crossing point between Spain and Gibraltar. This led to extremely long traffic queues on the weekend of 27-28 July. Some visitors found themselves waiting at the border in six-hour queues in searing summer temperatures. The UK government summoned the Spanish Ambassador in London to complain, while Foreign Secretary William Hague personally called the Spanish foreign minister to ask him to intervene. After this, the logjam at the border eased. But then in an interview given to a Spanish newspaper, Foreign Minister Jose Manuel Garcia-Margallo suggested Spain was considering more formal border restrictions. This reignited the row.
What new measures is Spain considering?
Mr Garcia-Margallo said Spain was considering introducing a 50 euro (£43) fee to cross the border, which is at Spain's southern tip. He has also suggested Spain could close its airspace to flights heading to Gibraltar. The Spanish tax authorities could launch an investigation into property owned by around 6,000 Gibraltarians in neighbouring parts of Spain, he said, and the law could be changed so that online gambling companies operating from Gibraltar have to use Spanish servers if they want to operate in Spain, thus coming under Madrid's taxation regime. He also said Spain would stop concrete and other materials being brought in through the border for the building of the reef.
Why is the UK threatening legal action?
On 5 August, the European Commission said border checks must "fully respect EU law and remain proportionate", and two days later, UK Prime Minister David Cameron said he'd had a "constructive" conversation with his Spanish counterpart Mariano Rajoy about the row. No 10 said Mr Rajoy offered to reduce the checks, but in the Spanish PM's public remarks about the call, no such offer was mentioned.
Checks did indeed continue over the weekend of 10-11 August - something Downing Street said had left Mr Cameron "very disappointed". No 10 called Spain's actions "disproportionate and politically motivated", and said that while legal action through the EU would be "unprecedented", it was being considered.
The UK statement came as the Spanish government said it was considering taking the dispute to the UN Security Council, where it could seek the support of Argentina. Argentina is also, of course, in dispute with the UK over territory - in its case, the Falkland Islands.
Why is Spain doing this?
The Spanish government argues that it is simply observing the law to the letter because it is no longer prepared to turn a blind eye to "irregularities" at a time when it considers Gibraltar is being unreasonable. In Britain, some have suggested that Spain is looking to divert attention from its own economic woes, or to use the possible new restrictions to give itself a bargaining chip.
Is fishing the only issue vexing Spain right now?
No. Mr Garcia-Margallo has said the "party is over" when it comes to his country's policy in general towards Gibraltar. There is considerable traffic between Spain and the Rock, including people who cross the border daily to live and work, but Madrid says the border is being abused. Cigarette smuggling is one bugbear, as is the alleged circumventing of Spanish residency taxes.
Spain has also accused Gibraltar of being a corporate tax haven, allowing companies and wealthy individuals to avoid paying millions. David Cameron has ordered Britain's Crown dependencies and overseas territories to get their "houses in order" over tax, but as recently as June, Gibraltar's chief minister Fabian Picardo said multimillionaire hedge fund managers should quit London for Gibraltar because it's "much cheaper", while promotional material promises they are "unlikely to be liable for corporation tax".
How long-running is the dispute over Gibraltar?
Extremely. The Rock has been fought over for centuries. After an invasion in 711 AD, it remained under Moorish rule for more than 700 years. Spain lost Gibraltar to an Anglo-Dutch force in 1704. The Spanish, despite formally ceding it to London in the 1713 Treaty of Utrecht, have wanted it back ever since. Under Franco, Spain cut Gibraltar off by sealing its frontier.
And more recently?
In 1984 the Spanish and UK governments started talks, but the process eventually collapsed over Madrid's demands that the Rock should revert to full Spanish sovereignty after 50 years of shared control. However, the border was reopened in 1985.
In 2006, the governments of Spain, the UK and Gibraltar signed the Cordoba Agreement, which included deals on issues like border crossings and access for flights. It also committed them to a tripartite forum for regular talks, but in 2011, then Spanish foreign minister Trinidad Jimenez said: "On questions of sovereignty, Spain only deals with the UK." And the current Spanish foreign minister in his recent newspaper interview described the tripartite forum as "folly", implying that Madrid is no longer happy to abide by it.
How serious is this latest row?
Spain and Britain are both part of the European Union and collaborate on a host of other matters. Tensions have flared on a number of other occasions over Gibraltar, and an uneasy calm has always been restored. It is too soon to tell if this time will be any different - although this particular row has already rumbled on for several weeks and shows no sign of abating yet.
What do the people of Gibraltar say?
They believe they have the right to self-determination and they voted in 2002 by an overwhelming majority against the idea of the UK and Spain sharing sovereignty. The UK government says it will not enter into negotiations on British sovereignty over Gibraltar without the people's consent. Spain claims UN resolutions on territorial integrity passed in the 1960s override self-determination and say the Treaty of Utrecht, which gives Spain the first option if Britain leaves, rules self-determination out anyway.