Election countdown: Summer special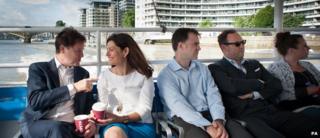 There are just 22 months until the next UK general election. Here's the state of the race as the countdown takes, like our political masters, a summer break:
The week at a glance
With the party leaders in holiday mood - even when back in London like Nick Clegg (pictured above) - and Parliament finally in recess there has been a marked dip in the election tension this week. Examples of big political stories include the rules for stopping on double yellow lines and how much money councils get from wider parking charges. A Tory peer caused uproar by endorsing fracking in the "desolate" north east, while 30 new peers were appointed. All interesting stuff, but it's hard to see them swinging the 2015 election...
The state of the polls
Candidate news
Conservative Marcus Fysh has been chosen to take on Lib Dem minister David Laws in Yeovil, Somerset. The businessman and councillor was selected following an open primary in the constituency, in which 200 residents took part.
Elsewhere, consultant dermatologist Ann Myatt has been chosen as the Tory candidate for the Cumbrian seat of Westmorland and Lonsdale while local councillor Robert Alden is to fight the seat of Birmingham Erdington which he contested in 2010.
For Labour, Will Martindale has been selected to fight Battersea in south London, a seat the party held for 13 years until 2010.
Council by-elections
The UK Independence Party has lost two of the seats it picked up in May's county council by-elections as Labour won in Norfolk's Thetford West ward while the Conservatives took Wyre Forest St Mary's on Worcestershire council.
The Lib Dems won a seat on Ribble Borough Council in Lancashire while Plaid Cymru defended the marginal Penyrheol seat in Caerphilly County Borough, south Wales.
Labour defended a seat on Amber Valley Borough Council in Derbyshire, holding onto the Codnor and Waingroves ward.
What the pundits say
With David Cameron on holiday, it is no surprise that his dress sense, rather than his policies, has come under press scrutiny.
After being pictured buying some fish at a market in Portugal in a denim shirt and knee-length shorts, The Sun spoke of "another fashion mishap" while the Daily Mail said the PM still "can't quite pull off the effortlessly casual look".
However, the Mirror suggested his wardrobe was "a big improvement on his past holiday outfits".
Here's a pic, so you can judge for yourself:
Back in Westminster, The Spectator's James Forsyth says he has it on good information Boris Johnson will not stand for Parliament at the next election.
"Boris's decision not to be a candidate in 2015 indicates that he expects David Cameron still to be prime minister and party leader after the general election," he writes.
But this, he adds, does not mean the London Mayor does not want to be prime minister - that ambition "burns brighter" than ever apparently - and he now expects to face Home Secretary Theresa May in a future leadership contest.
Dan Hodges continues his weekly grilling of Labour leader Ed Miliband in the Daily Telegraph. The columnist - no fan of Mr Miliband - suggests he cannot think of a party leader "who has seemed so politically isolated at this stage of the electoral cycle".
He believes the left of the party will soon "begin the process of cutting him loose", fearful of being blamed if the party is defeated in 2015.
"His leadership is secure, basically because no one wishes to pick up the poisoned chalice that the 2015 election is becoming," he adds. "But bereft of allies, he is fast becoming a lame duck. Or a dead duck."
Writing in Labour List, Mark Ferguson argues there is a "palpable sense of apprehension" among Labour MPs and the debate over its trade union links risks portraying Labour as a party "talking to itself".
"There's a realistic fear that some in Miliband's circle want to re-run the 2010 manifesto - and electoral strategy - again, and expect a different result," he adds. "That's the very definition of a party that is drifting."
Lessons from history: July 1990
This long before the 1992 general election, and Labour, led by Neil Kinnock was enjoying polling 49% against Margaret Thatcher's 38%. The poll tax riots of the previous March had shaken the Conservative government's credibility with the electorate, as had signs of a weakening economy.
Mrs Thatcher was having differences with senior members of her cabinet, including Nigel Lawson and Geoffrey Howe over economic and European policy, although there were not yet any outward signs of the dramatic events that would occur in the autumn.
Away from politics England's football team, with youngster Paul Gascoigne grabbing the headlines, were setting the 1990 World Cup alight and raising hopes of a first triumph since 1966.
The lessons from this period of history? Fortunes can change very quickly.
The nation's hopes of football success were dashed by the Germans in a penalty shootout, and Gazza's tears were followed Mrs Thatcher's four months later.
Under their new leader John Major, the Conservatives went on to win the 1992 general election with the highest number of votes ever recorded, although this only translated into a slim majority of 21 seats. Neil Kinnock resigned after his second defeat as Labour leader, and was replaced by John Smith.
Compiled by Alex Hunt and Gavin Stamp.