Labour MP George Mudie: Party is hesitant and confused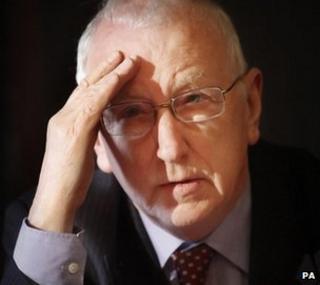 A Labour MP has said he does not know what the party stands for and the government is "making the weather" on welfare, health and education.
George Mudie said Labour was "slightly hesitant and confused" and not "setting the agenda" in the way it did in the run-up to its 1997 victory.
The ex-minister told the BBC that Ed Miliband was "sound" on the big issues but was "cocooned" by his advisers.
Labour said it was doing the "heavy lifting" for a swift return to power.
Polls have suggested that although Labour retains its lead over the Conservatives, doubts remain about the party's economic policy and its willingness to take tough decisions at a time of austerity.
'Relevant'
The MP for Leeds East since 1992 told BBC Radio 4's World at One that he was concerned that Labour's poll lead was not "firm enough" at this stage and questioned whether it would withstand scrutiny during an election campaign.
The party had to demonstrate that it was "relevant" to people's lives and make it clear where it stood on important issues.
"I think one of the difficulties a Labour Party member would say to you, and I would say to you, I have difficulty knowing what we stand for now," he said.
"We are 18 months away from an election thinking that we will put out a document on all these major items and the public will say, 'oh great'. And I think, often, at the moment, the government are setting the agenda, making the weather and we're responding to it. Tony Blair and Gordon Brown never did that."
He added: "Do you know, because I don't, our position on welfare, do you know our position on education, do you know our genuine position on how we'd run the health service?"
"I remember before we won, the five years to '97, this place was bubbling, we were energetic, we were at them, we thought we had all the answers. We're not at them and we're slightly hesitant and we're slightly confused and I deeply worry about that."
'Bunker mentality'
Asked whether Mr Miliband was in touch with the concerns of backbenchers like him, Mr Mudie said the leader was "always cocooned by people round him and the basis they are around him is he trusts them".
The Labour leader should "just relax and be himself", he suggested.
"The bad side is, you know, the bunker mentality that gets round leaders.
"One of Ed's problems really is that he's young, and, of course, the way he came to power - the problem with his brother, the fact that the trade unions had a major say and I still think he's trying to find himself.
"And the trouble with that is that sometimes he's doing things that he thinks a leader should do, that he shouldn't do. He should use his own judgment and his own belief on how he should act and forget about how does a leader react."
While acknowledging he was a "bad tempered, cynical individual", Mr Mudie suggested other colleagues shared his concerns.
"We are not setting the agenda, we are responding to the Tories," he said. "Why would you vote Labour if we are not offering something different, they will stick with what they have got."
'Swift impression'
Mr Mudie served in the government of Tony Blair and is a member of the Commons Treasury Select committee.
Shadow justice secretary Sadiq Khan said Mr Mudie was "entitled" to his views but Ed Miliband had set out a range of policies on tax, housing, jobs and giving consumers a better deal on fuel bills and train fares.
"In two and half years as a new leader, you have to make an impression on the British public pretty swiftly and that is what we are seeking to do by setting the agenda," he told the same programme.
Comparisons with the mid-1990s were misleading, he argued, since Labour had been in opposition for nearly 15 years at that point and were now seeking to return to power "in record time".
"That means, sometimes, not being in the limelight 'hugging a huskie or doing that sort of stuff' but actually going to the town halls and doing those meetings, getting on your soapbox, doing Q&As.
"I am afraid that means less time in the (House of Commons) tea room, but I am sure George will appreciate Ed's objective is to get out there into the country because only 29% of the country voted Labour in 2010 and that is the challenge."