Clegg's royal baby gifts: Nuns' cot cover and bag of coffee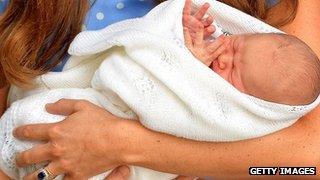 Nick Clegg has revealed he has sent the Duke and Duchess of Cambridge cot bedding embroidered by Spanish nuns and some of his favourite coffee after the birth of their son Prince George.
The deputy PM said during his weekly LBC phone-in, the cot cover and sheet was made in a convent in the village where his wife Miriam had grown up.
The coffee would help the royal couple to "cope" with parenthood, he added.
No 10 later said David Cameron gave the couple a box set of Roald Dahl books.
The deputy prime minister said he had sent the presents, accompanied by a card, to Kensington Palace on Tuesday
Mr Clegg told listeners that he understood the pressures of being first-time parents and his choice of presents reflected that.
"We sent a large bag of our favourite coffee," he said. "As parents of little boys, you know you need that coffee when you are coping with little boys."
The deputy prime minister has just returned from a holiday near Olmedo in Spain, where his wife grew up.
He said his family's links to the area was the inspiration for the other gift. "We found a beautiful cot cover, with a cot sheet, which is hand embroidered in a convent in the village Miriam comes from in Spain.
"The nuns makes these beautiful hand-made things so we sent that."
The Duke and Duchess of Cambridge have reportedly asked well-wishers to consider giving money to charity, in lieu of a gift, to avoid being inundated with presents.