JCB chief Bamford and Brian Paddick among 30 new peers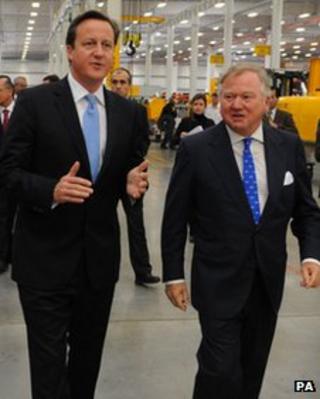 Businessman and Conservative donor Sir Anthony Bamford, former police officer Brian Paddick and the Green Party's Jenny Jones are among 30 new peers set to join the House of Lords.
Journalist Danny Finkelstein and former Welsh AM Nick Bourne are among other Tory peers while Ministry of Sound boss James Palumbo takes the Lib Dem whip.
Ms Jones becomes the sole Green representative in the Lords after being elected in a ballot of members.
There are currently 755 active peers.
Nominations for peerages are put forward by each of the Westminster party leaders and are "vetted" by the House of Lords appointments commission.
Each of the three main parties has selected people who have made substantial donations to them in the past.
'New battlefield'
Sir Anthony Bamford, the head of the JCB firm, is one of new 14 Conservative peers.
Since 2002, the Bamford family and their companies have given nearly £2.5m to the Conservative Party.
A Tory source described Sir Anthony as a "leading industrialist who has made a "massive contribution to British business".
Other Conservative nominations include party treasurer Howard Leigh, former Tesco executive Lucy Neville-Rolfe and former MPs John Horam and Matthew Carrington.
Doreen Lawrence, the mother of murdered teenager Stephen Lawrence, leads five Labour nominations for peerages, which also include businessmen Sir William Haughey and Sir Charles Allen.
Sir William, the founder of facilities management and engineering firm City Refrigeration, has donated £1.3m to Labour.
The Lib Dems have nominated two former advisers to Nick Clegg, Olly Grender and Alison Suttie, and Sir Ian Wrigglesworth - a former MP who has been serving as the party's treasurer.
Among ten nominees in total, Mr Palumbo has given £650,000 to the party since 2011 while Rumi Verjee has given £750,000 in three donations since the last general election.
Ms Jones, currently a member of the London Assembly becomes the first person to join the Lords as a Green Party peer, having been chosen in a ballot of activists.
"It is an honour and a privilege to be chosen as the Green Party representative in the Second Chamber," she said.
"I am looking forward to a new battlefield for green ideas and policies and I shall do my best to fulfil the trust and expectation that my party has shown in me."
'Insult to democracy'
The thirty nominees will take their seats when the House of Lords returns from its summer recess in September. When they do, there will be nearly 800 active members of the House of Lords.
Of these, 221 will take the Labour whip, 222 represent the Conservatives while 99 will be Liberal Democrats.
There are 183 crossbenchers who are not aligned with any party. Of the remainder, 13 represent other parties and 21 are "non affiliated" while 25 Bishops of the Church of England continue to sit in the Upper House.
The UK Independence Party suggested the process for deciding the number of party peers - which is based on the share of the vote at the last general election - had been abused and it was entitled to many more than its current three representatives, based on its performance in 2010.
"They are giving appointments to people who pay hundreds of thousands into their party or who have actually been rejected by voters in recent elections," said party leader Nigel Farage.
"Quite frankly it's an insult to democracy in the UK, a country that prides itself on being open and fair and the mother of Parliaments."
Size of Lords
The House of Lords is now at its largest since 1999, when the majority of hereditary peers were removed. Reformers have called for peers to be allowed to effectively retire without losing their honours.
Labour said David Cameron had promised to cut the cost of politics but had done the opposite by appointing "rafts of new Lords" since he became prime minister.
New Conservative peer Danny Finkelstein said an "expanding chamber" was an issue that would need to be addressed. "Anyone can see that from the numbers going forward," he told the BBC News Channel.
More than 40 peers are currently on a "leave of absence" and are not attending Parliament due to illness or other commitments while approximately 10 are disqualified because they are members of the judiciary or elected representatives elsewhere.
Government plans to elect the majority of peers by 2025 were abandoned last year in the face of opposition from many Tory MPs.
Lib Dem leader Nick Clegg said he would like the current system of appointments to be scrapped but, in the meantime, he would "discharge his right" to nominate people who supported the party and shared its values.