Do we demand resignations too quickly?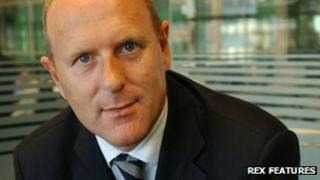 The case of Peter Cruddas raises serious questions for the way we do politics.
Obviously it highlights the continuing failure of the parties to find a way of funding their activities. While wealthy donors and unions continue to fund the parties, there will always be doubts about what influence they get in return.
And the media will continue quite rightly to shine a light on who pays what to whom. But all that must be for another day.
I think the more interesting question the case poses for both politicians and media alike is the way we and they respond during political controversies. The moment the allegations first arise, somebody somewhere will demand someone's head.
The cry of "resign!" is a powerful one and it is a simple headline. MPs and ministers talk somewhat gruesomely of "winning a scalp". In Westminster terms, there is little more satisfying for a tribal party than to see one of their opponents humbled.
For political leaders, this presents real dilemmas. They come under pressure to sack friends and allies to avoid a controversy dominating media headlines day after day. A swift resignation is far better than the promise of an inquiry or an apology in bringing a story to a close.
What they wish to avoid is the sight of a prime minister holding onto a hapless minister, appearing indecisive and weak, only to let him or her resign after several weeks because they and their families cannot take the pressure any more.
You only have to talk to Andrew Mitchell, the Conservative former minister, who faced what he says are false allegations from some police officers about an incident last autumn as he tried to leave Downing Street on his bicycle. He was physically ill as a result of the stress placed upon him and his family.
He came under pressure from Downing Street to resign and eventually he did. But it now appears that much of the evidence against him simply was not true.
You could also talk to Peter Mandelson, who resigned as Northern Ireland Secretary in 2001 after being accused of using his influence to speed up a passport application for some Indian businessmen. He was later cleared of any wrongdoing but the politics of 10 Downing Street and pressure of the moment had forced him leave prematurely.
So there is a tension here. Politics demands a swift resignation; justice demands a little patience. Ultimately, neither will be wholly satisfied. But the cases of Messrs Cruddas and Mitchell might prompt our political leaders to pause next time they are tempted to ask their friends and allies to resign in the heat of controversy.